Lake Street Dive performed for a sold-out crowd Sunday night at the Shelburne Museum in Shelburne, VT. The show marked their third date on a U.S. tour promoting their acclaimed new record Obviously.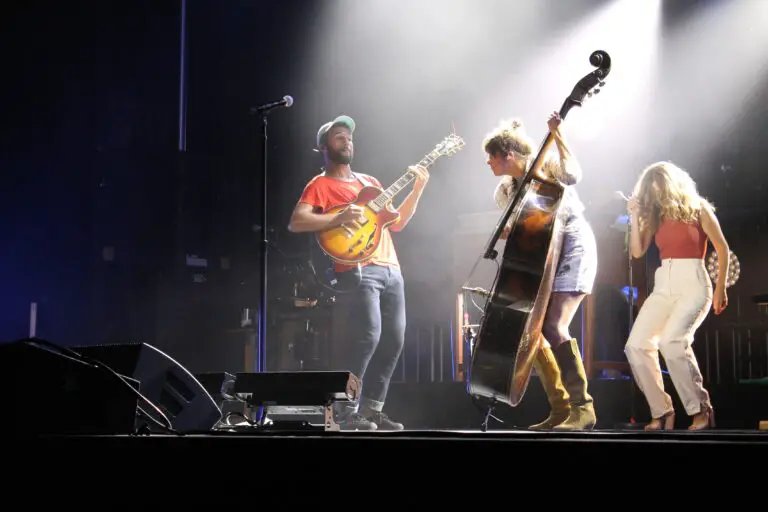 Formed in 2004, Lake Street Dive first gained viral recognition after a series of sidewalk singing videos and a jazzy, lilting cover of "I Want You Back" by the Jackson 5, highlighting lead singer Rachael Pierce's powerhouse voice. 
The group has always incorporated aspects of jazz, pop, soul and R&B into their offbeat covers and originals, and on Obviously the blend has never sounded more seamless. With production from Grammy-winning hip-hop producer Mike Elizondo, each song delicately showcases each band members mind-blowing musical capability while keeping a brisk, light pace. Though the production quality is notable, the "magic in a bottle" the quartet captures live has energized their fan base for years. Sunday was far from the first time the band has drawn a crowd to Shelburne or Burlington.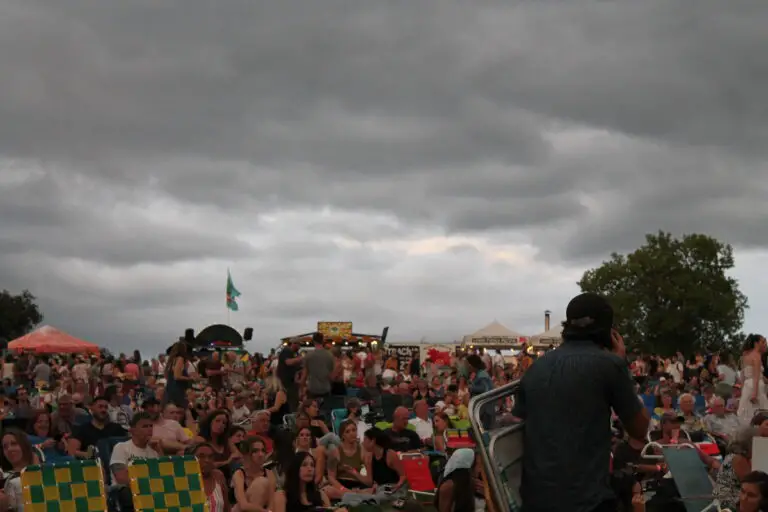 Though Hurricane Henri's clouds were especially menacing on the eve of the show, they didn't stop attendees, lawn chairs in hand, from flocking to the outdoor venue. Canadian musician Allison Russell, who will open for LSD on a few tour dates, kicked the night off with songs from her latest album, Outside Child. Supported by Larissa Maestro on the cello and Mandy Fer, of the band Sway Wild on electric guitar, Russell's mesmerizing voice anchored the opening set. A light rainfall at sunset got the crowd excited. Many shouldered on rain jackets and rushed to the stage to celebrate the imminent rainbow as Russell belted her soul out on "Nightflyer."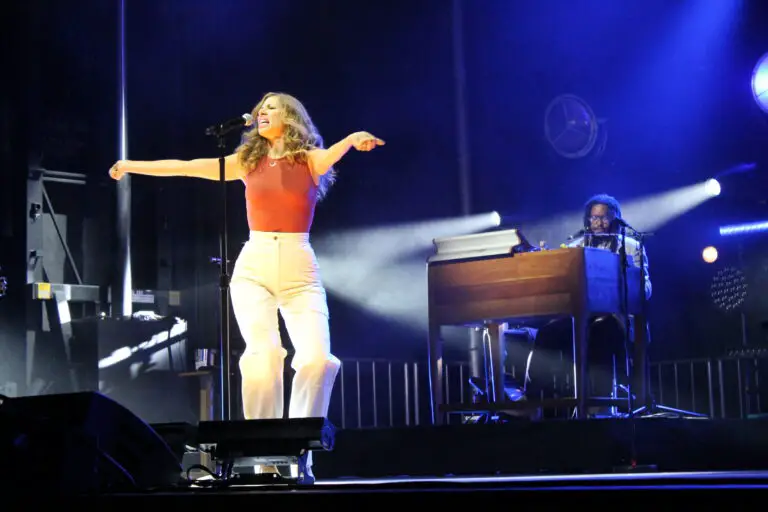 As mentioned, Vermont is no stranger to a good LSD show. The excitement for their set was palpable as fans of all ages rushed the barrier, eagerly awaiting the group to step on stage. The bounce of Pierce's red hair as she strutted onstage sent waves of cheers through the crowd, soon replaced by dancing as the band jumped onto the steppy, yacht-rock tempo of opener "Know That I Know." Pierce's unique and show stopping voice does front flips over the bands steady, physical grooves.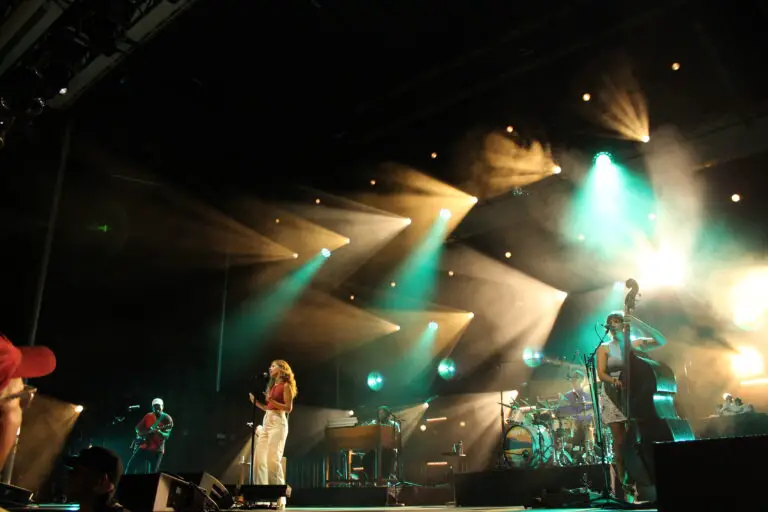 Leading into an older song, "Mistakes," Pierce took the mic to speak about the band's return to touring. 
"We're a little rusty, and we're gonna have to make some mistakes," she said. "But we have to play through the mistakes. You play through the mistakes because you don't want to teach yourself to fear the mistakes." 
The statement felt deeply relatable and also ironic, as the group went on to play a harmonious, heart-pumping 19-song set. Lake Street Dive have been playing together for nearly two decades, and their musical bond and attunedeness to each other were apparent with every beat.
Though founding member Mike "McDuck" Olsen departed the band after 17 years this May, the music feels anything but lacking. Touring keyboardist Akie Bermiss, who officially joined the band in 2017, is the perfect foil to Pierce's vocals, apparent on the soaring and playful duet "Same Old News." As both a keyboardist and vocalist, Bermiss is as versatile as he is singular.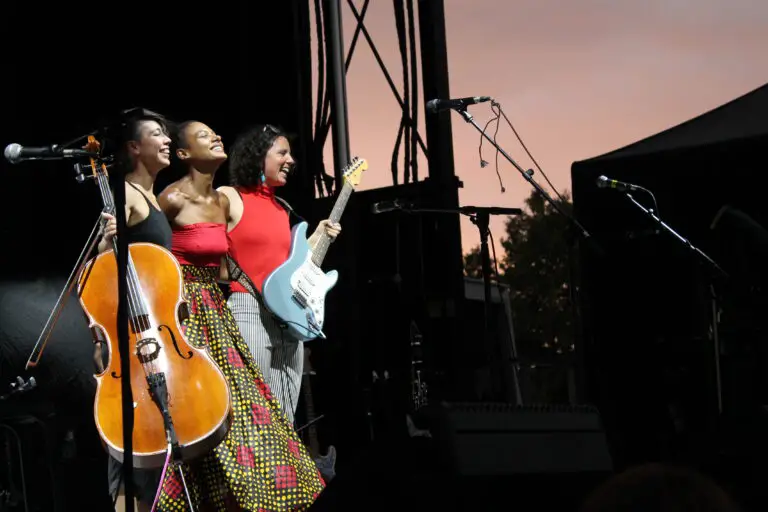 Performing "Alone Again," a Bermiss release with Greg Mayo, his vivid scenes and casually bleak humor are an exciting contrast to an initially mourning piano riff. The line "I'm learning how to microbrew" struck a chord in craft-beer heavy VT. "He knows his audience," a woman laughed to her friend as they swayed to the beat. 
Bassist Bridget Kearney, a commanding force within the band from the start, inarguably showed her prowess, absolutely shredding an upright bass as nimbly as an electric guitar. On standout performance of "Neighbor Song," a track from Lake Street Dive's 2010 self-titled project, Kearney's gentle performance was expressive and haunting, psychically in tune with Pierce's lilting cabaret-style performance.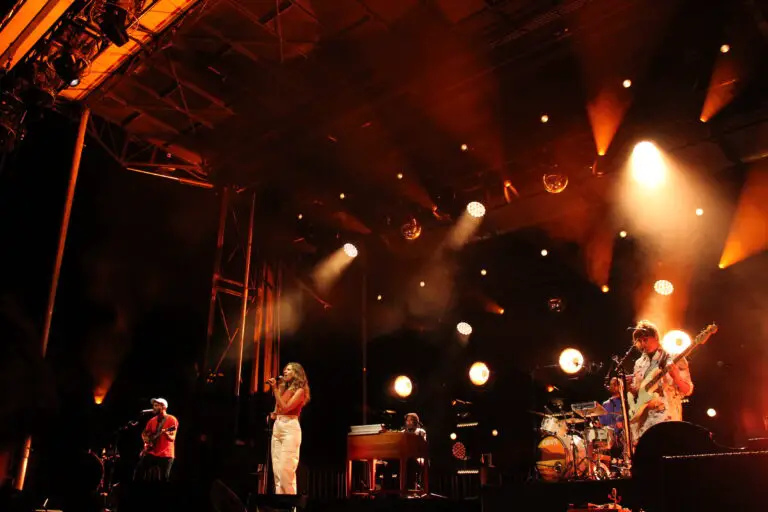 After the emotional "Nobody's Stopping You Now," the band came together at the center of the stage and performed three quieter numbers, "Stop Crying," "Feels Like The Last Time," and "Neighbor Song," every one of them to lush harmonies. In moments like these, it's clear how the band can combine and defy genres so smoothly; they have the skill to do so. 
After closing their main set with the arena-worthy crowd favorite "Good Kisser," the band happily came on for a 2-song encore. They performed Obviously's stunning closer "Sarah," the complex harmonies of which could comfortably fit over a full symphony. As the band closed with a cover of The Beatles' classic "Don't Let Me Down," a full moon peeked out from behind the clouds. 
Lake Street Dive's Sunday show captured what makes them so great: their playfulness and skill, their eclectic interest in genre-bending rhythms and the pure joy they capture in so many of their songs. One could even say the band captured what's so great about live music in general – a band and their audience, grooving together in heartbreak, happiness or healing over the same beat.