Nineteen ninety-five was as formative and important a year for Phish as they come. So, it should come as no surprise that it ended at Madison Square Garden, a venue the band today calls "home." However, the New Year's run for 1995 would mark only the second and third times Phish ever played MSG. Even though New Year's Eve '95 may get all the "glory," it's lead-in from the night before has a lot to offer as well.
The show began with the relatively new "Prince Caspian," from then yet to be Billy Breathes album. It's a relatively quick and nondescript version. But immediately at its conclusion, some familiar feedback ensues, the signature drum beat kicks in and Phish is off and running with a rare first set, "Also Sprach Zarathustra," or simply "2001" as it's commonly referred to today. Phish packs a decent punch in this arena rocker that certainly is a short version when compared to contemporary ones. Yet again, the next song begins before "2001" can even finish. This time it's "Suzy Greenberg" with Page McConnell leading the way on piano, completing a unique opening trifecta.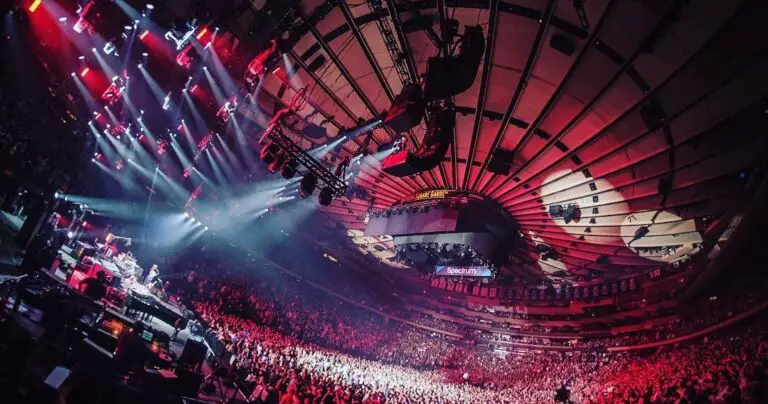 Another quick, familiar-sounding feedback jam slows things down a bit before Phish takes off again. This time it's fueled by Jon Fishman's signature drum intro to "David Bowie." This gives the band their first real opportunity to explore the New Year's space at MSG, and they do just that. A patiently crafted jam is accentuated with some brilliant Anastasio-provided guitar licks, which grow slowly in ferocity. This yields a hearty response of approval from the crowd as the first real jam of the night.
The first set also features a "Kung" sandwich, with the opening and closing sections of "It's Ice," ably serving as the bread. There's even a nod to Gamehendge, courtesy of the ensuing "The Man Who Stepped Into Yesterday" sequence, with the Mike Gordon-led "Avenu Malkenu," placed right in the middle per usual. Emotions then come to a peak in the first set with an absolutely rousing "Divided Sky" that features a noticeably long "pause." A quick romp through "Sample In A Jar" brings a first set that seemed to pull a little bit of everything from the band's mid-90s repertoire.

Native New Yorker, Mike Stone, got to make the chess move, on behalf of the audience prior to the start of the second set. This was the second of two chess matches between the band and their fans in 1995. These wound up being split. And for those unaware, the rematch looms.
While the second set doesn't offer up as much in the way of rarities as the first, it more than makes up for it in execution. "Ya Mar" opens the second stanza and includes a perfectly placed "Auld Lang Syne" tease from Trey. Another fairly new song still finding its legs in "Free" follows this. But the highlight of the set, and possibly the show, is the triumphant "Harry Hood" that comes next and builds to an incredibly emotional peak. When this is paired with a thunderous "AC/DC Bag," it creates one of the earlier special Phish moments at MSG.
"Lifeboy" serves as the well deserved 'breather' song after this impressive sequence of music. But that's the last of its kind for this show. "Scent Of A Mule" sees a particularly drawn out "Mule Duel" between Trey and Page before its maniacal klezmer-esque finish. And the set ends in fine fashion with a double closer of sorts. A standard take on the Picture of Nectar classic "Cavern" begets an absolute whirlwind of a "Run Like An Antelope" and the typical musical chaos that comes with it.
For an encore, Phish trotted out "A Day In The Life," a Beatles cover that was also new to 1995. This would be the only non-instrumental cover of the evening. An impressive performance of nearly all originals, both new and old, defined the second ever Phish show at MSG. And it certainly laid the groundwork for what would be the third time's "charm" the following evening.
Phish MSG New York, NY 12/30/95
Set 1: Prince Caspian > Also Sprach Zarathustra > Suzy Greenberg > David Bowie, Simple > It's Ice -> Kung -> It's Ice > The Man Who Stepped Into Yesterday > Avenu Malkenu > The Man Who Stepped Into Yesterday > Divided Sky, Sample In A Jar
Set 2: Ya Mar, Free > Harry Hood > AC/DC Bag > Lifeboy, Scent Of A Mule > Cavern > Run Like An Antelope
E: A Day In The Life