There are certain years in Phish lore that are held in higher esteem than some others. 1997 would certainly be one of these. The Fall Tour this year, aka "Phish Destroys America," produced some of the greatest moments in the band's storied history. 23 years ago today, the legendary tour stopped in Rochester, NY and delivered a few monumental jams as well as the debut of a soon-to-be Phish regular.
Phish runs right out of the gates tonight in Rochester and sets the tone early with a massive three-song opening sequence. A raucous War Memorial crowd is greeted with a quick trip to Gamehendge first via "Punch You In The Eye." The popular opener choice revs the crowd up even more with its signature lyrics, fun calypso rhythms and, of course, the customary Mike and Trey salsa dance.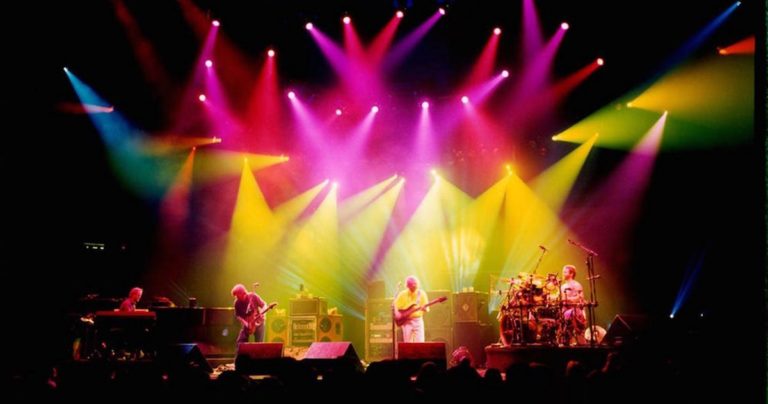 While "Punch" may not have been a surprise, the absolutely monstrous "Down With Disease" that immediately follows surely must have been. Phish's second song in Rochester was played like a second set with an electric Anastasio-driven jam that starts around the five-minute mark. From there on out, it's a masterclass in controlled chaos with the band firing on all cylinders. This eventually devolves into an ambient-type jam replete with digital delay loop effects, giving it that vintage late 90s sound.
20 minutes and one funky start-and-stop jam later, the "Disease" slowly crawls to an end. At this point, anything is possible. But then the familiar high-hat drum pattern of "Maze" arises from the mist. The dark organ tones produced by Page on keys combined with Trey's relentless guitar rhythms shine on this one. This marks the end of a mesmerizing, and certainly exhausting, opening 1-2-3 on the lineup card tonight in Rochester.
Things understandably cool down a tad afterwards, starting with the "Dirt" that follows. Trey leads the band on a quick trip beneath the surface with this new tune that debuted earlier in the year. Afterwards, another new tune makes an appearance in "Limb By Limb." This one is supplied with a quick, blissful jam on the back end. "Limb" would later be featured on Phish's The Story Of The Ghost album released the following year.
These two up and coming songs are then followed by two cover selections to close out the opening stanza. McConnell and his baby grand piano take charge and lead the way on a take of The Rolling Stones' "Loving Cup." And a rip-roaring "Rocky Top" then closes the book on a first set that's certainly going to be most remembered for its impeccable start.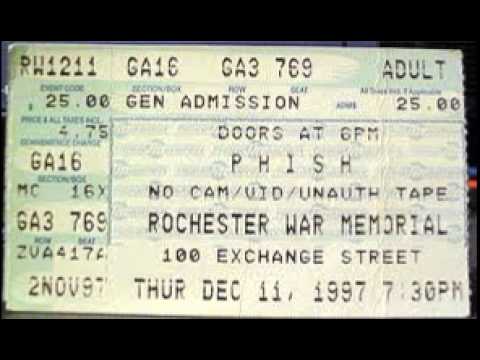 Phish goes deep once again to start the second set with a thorough take on yet another cover, The Who's "Drowned." Trey wastes no time before unleashing a plethora of notes with the rest of the band close behind in another frenetic early set jam in Rochester. This yields a pleasant, improv-heavy jam that once again devolves into a loop-heavy ambient segment, stretching to the 20-minute mark once again.
Suddenly, Trey begins strumming a distinct melody as they segue a bit awkwardly into the next number. But it's one they've clearly been practicing (Mike especially), as memorialized in this clip from the movie Bittersweet Motel seen below.
A cover that few saw coming, Phish takes on Ween's "Roses Are Free" for the first time ever. They get through it ably enough and some more inspired guitar play from Trey drives it home nicely. Quite suddenly, it then shifts from a debut to bust out of sorts as "Big Black Furry Creatures From Mars" rears its head for the first time in 118 shows. The old school, nonsensical rocker shows no real signs of dust as the usual mayhem it produces ensues.
Out of the feedback-heavy ending arises "Ghost," the title track of the aforementioned 1998 album. This lays the groundwork for one last notable Rochester jam. Mike's thunderous bass play and Page's work on the electric keys lead the way early on. A beautifully patient and slowly progressing sequence then takes shape as Trey and Fishman begin to get more prominently involved.
At the end of yet another monstrous jam, a distinct "Down With Disease" section is played, as if in a nod towards its first set brethren. An incredibly random but blistering take on Chuck Berry's "Johnny B. Goode" then closes out the second set in grandiose fashion. This would be the second to last time it's ever been played at a Phish show, to date. And as a complete juxtaposition, the delicate ballad "Waste" wraps things up as the encore selection on this chilly Rochester evening.
Phish Rochester War Memorial – Rochester, NY 12/11/97
Set 1: Punch You In The Eye > Down With Disease -> Maze, Dirt, Limb By Limb, Loving Cup > Rocky Top
Set 2: Drowned -> Roses Are Free -> Big Black Furry Creature From Mars > Ghost -> Down With Disease -> Johnny B. Goode
Encore: Waste