Albany-area heavy rockers The Erotics are no longer a new band or young pups, having been at it for over two decades now. They first released "Get Drunk Again" on Cacophone Records Ultra Swank compilation in 1999, so we can reasonably call these lads veteran heavy rockers by now.
Let's Kill Rock 'n' Roll is a live record of all-new songs – I remember Central New York heavies The Rods doing this in 1984, but this is not common in the heavy rock world. However, it's no crappy live-in-a-club recording – the band recorded this in front of a small audience of hardcore fans in an actual studio, so the sound is fantastic, the guitars are up-front and face-removing, a great balance of clarity and rawness. The small live audience gives it a vibe not unlike the legendary promo-only live 1977 AC/DC record Live from the Atlantic Studios, which was recorded in similar fashion.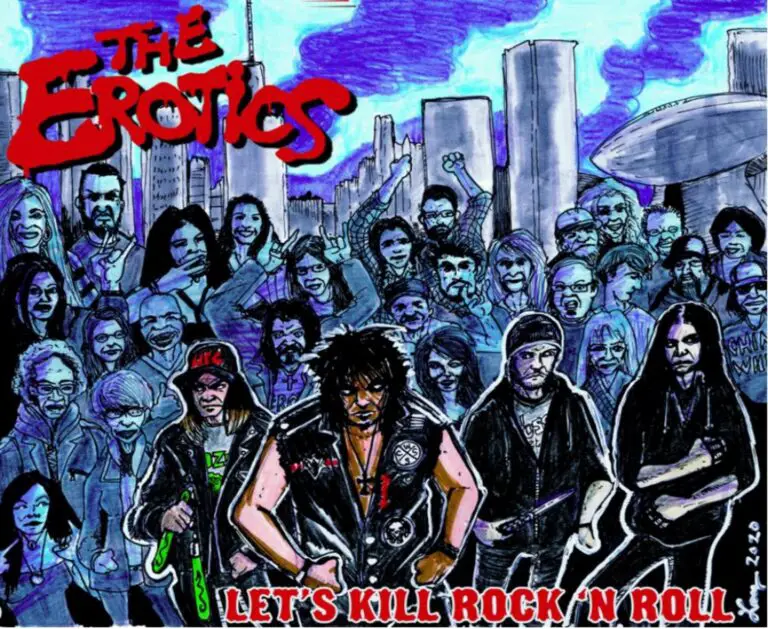 Before getting to the tunes, one thing that has always set The Erotics apart from your typical Albany-area "plays the local clubs and occasionally some other Northeast city" band, is that these guys have built a following well outside the local area. No doubt, there have been Albany bands who have done the same – Troy heavies Stigmata and Brick by Brick developed national followings and have performed in Europe; Albany ska-crunch heroes Can't Say have toured nationally and released records in Japan; and legendary area greats Blotto were on MTV on Day 1 and toured the States opening for Blue Oyster Cult.
When I've seen The Erotics in local clubs, there always seems to be someone there down from Canada or over from Europe to see the band. Having toured the UK several times, last year they played a British festival opening for one of my favorite bands ever, The Wildhearts; the reach of this band extends far beyond the 518.
Anyways, the music: this record rocks. A killer old-school heavy rock record, with no pretensions to alternative rock or punk hipster-ism. I know other reviews and articles brand these guys as punk, but I don't hear that – this band is firmly in the tradition of 70s (Alice Cooper, Bon-era AC/DC) and 80s hard rock. They invoke Appetite-era Guns n Roses, maybe first-two-records-era Motley Crue (but without the shitty singer) 'Electric'-era The Cult and, again, AC/DC. Great riffs, great songwriting, and lyrics about things real rock bands sing about (fighting, drinking, rocking, women & hell). The record starts off with a short instrumental, "Nothing to Sing About", with chugging riffs and Thin Lizzy-style harmony guitars, into title track "Let's Kill Rock N Roll," killer riff, memorable chorus, a truly great heavy rock tune.
There's mighty, hefty riffs everywhere and some excellent choruses, as with "Monday Morning Meltdown" and "Head of the Low Class." Mike Trash's vocals, always good, are top-shelf here, in the region of a more whiskey-soaked Axl. "Lie My Way Into Hell" is excellent, maybe the best track, great, swaggering stuff. Not much to criticize here – "Wrong Kind of Love Song" maybe reminds me a bit of those 80s power ballads I fucking hated back in the day, albeit without the candy-corn production, and as you get into the latter half of the 14 tracks, there's a blending-in-together feel. But the record ends on a high note with "Fighting Like Cats and Dogs," full of high-speed, fast, heavy, crushing metal. Great stuff indeed.
All hail Let's Kill Rock'n'Roll, a top-notch hard rock record, released on July 20, so go get yourself a tall glass of this now.  Check it out on Bandcamp.
Key Tracks: Let's Kill Rock N Roll, Lie My Way Into Hell, Fighting Like Cats and Dogs