It's not too often you see the Grateful Dead opening for another band, especially not in the 1980s. But on July 4, 1986, the Grateful Dead linked up with Bob Dylan and Tom Petty and the Heartbreakers for one of only four shows together that summer, performing at Rich Stadium in Orchard Park, NY, home of the Buffalo Bills.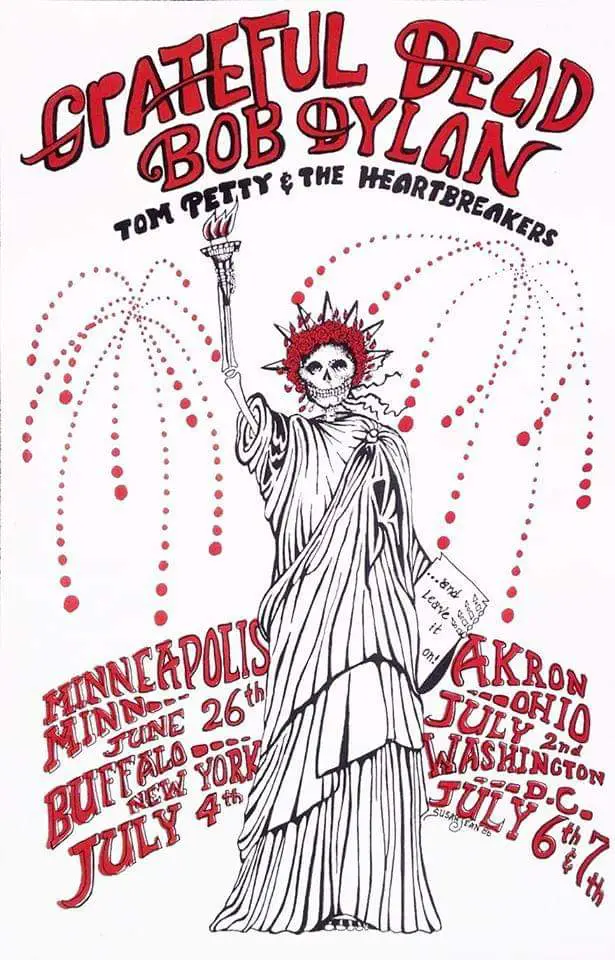 The Pittsburgh Post-Gazette characterized the show on the 4th of July perfect for "The Dead's vagabond odes and Dylan's outspoken songs of freedom." Sweltering heat during the day led to a first set that was cut short, but rain during "Cold Rain and Snow" to start the second set provided respite for the crowd. Perhaps out of exhaustion, fans were reported to have left after the Dead encored with "U.S Blues."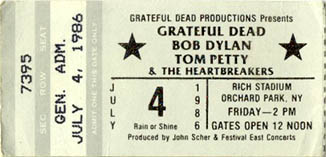 While the Dead opened, a trio of songs were featured in a satellite broadcast live to Farm Aid 3. Prior to "The Wheel," Bob Weir said to the crowd "America is an example of an agrarian nation, let's keep it turning."
Six days and two shows later, Jerry Garcia slipped into a diabetic coma and was unconscious for a week, but would recover and be back on stage later that year. This show at Rich Stadium would be one of the last times the Dead would perform in New York for nearly a year, before returning to Rochester on July 2, 1987.
Setlist, Grateful Dead, July 4, 1986, Rich Stadium, Orchard Park, NY
Set 1: Jack Straw, Dupree's Diamond Blues, CC Rider, Tennessee Jed, My Brother Esau, Touch Of Gray
Set 2: Cold Rain & Snow-> Fire On The Mountain-> Samson & Delilah*-> The Wheel*-> I Need A Miracle*-> Uncle John's Band-> Drums-> Gimme Some Lovin'-> Goin' Down The Road Feelin' Bad-> Turn On Your Love Light
Encore: U.S. Blues
*broadcast as part of Farm Aid 3
Dylan and fellow Traveling Wilbury Petty joined up for a tour featuring the Heartbreakers backing Dylan. Dylan played a few solo acoustic songs, while the Heartbreakers played their hits that are still classics today, and all joined together for "Rainy Day Woman # 12 & 35."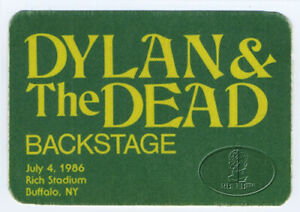 Bob Dylan with Tom Petty and the Heartbreakers, July 4, 1986, Rich Stadium, Orchard Park, NY
Set: So Long, Good Luck And Goodbye, Positively 4th Street, Clean Cut Kid, Emotionally Yours, Trust Yourself, We Had It All, Masters Of War, Straight Into Darkness (Petty & The Heartbreakers), Think About Me (Petty & The Heartbreakers), The Waiting (Petty & The Heartbreakers), Breakdown (Petty & The Heartbreakers), To Ramona (Solo acoustic), One Too Many Mornings, (Solo acoustic), A Hard Rain's A-Gonna Fall (Solo acoustic), I Forgot More Than You'll Ever Know, Band Of The Hand, When The Night Comes Falling From The Sky, Lonesome Town, Ballad Of A Thin Man, Bye Bye Johnny (Petty & The Heartbreakers), Make It Better (Forget About Me) (Petty & The Heartbreakers), Spike (Petty & The Heartbreakers), Refugee (Petty & The Heartbreakers), Rainy Day Women # 12 & 35, Seeing The Real You At Last, Across The Borderline