It was 43 years ago today that one of the most notable Grateful Dead shows ever was performed at Barton Hall at Cornell University on May 8, 1977. One of the most revered and traded shows in the band's history, the Barton Hall show is a thing of legend, a perfect way to introduce new fans to the band and a performance for the ages with stand out versions of numerous Dead songs.
The band played its first of three shows at Cornell (1977, 1980, and 1981) on May 8, 1977, and were booked by the Cornell Concert Commission after some troubles with booking live acts in the years prior. However, this was not the first live campus appearance from the Grateful Dead members. Jerry Garcia Band had performed at Cornell's Bailey Hall less than two years prior on October 27, 1975. The lineup for the May 1977 show included the core of Jerry Garcia, Phil Lesh, Bob Weir, Mickey Hart and Bill Kreutzmann, as well as Donna and Keith Godcheaux.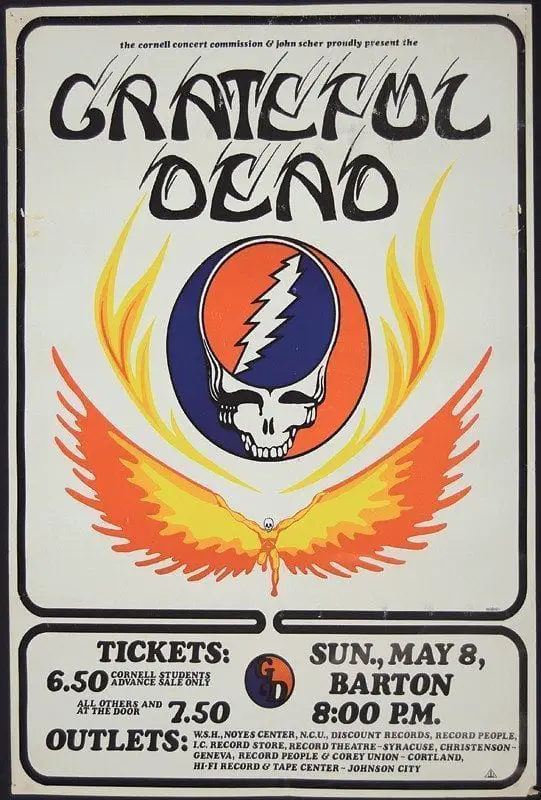 In past years, the Cornell Chimes have commemorated the day with a performance of Grateful Dead tunes on a set of bells housed in historic McGraw Tower. One of the university's oldest musical traditions, the 21-bells are played primarily by student chimesmasters.
Read our review of Peter Conners' 'Cornell '77' and our interview with then-Cornell freshman Larry Reichman who took photos at the legendary show for his book Barton Hall 5/8/77.
Grateful Dead at Barton Hall, Cornell University, May 8, 1977
Set 1: New Minglewood Blues, Loser, El Paso, They Love Each Other, Jack Straw, Deal, Lazy Lightnin', Supplication Blues, Brown Eyed Women, Mama Tried, Row Jimmy, Dancin' in the Streets
Set 2: Scarlet Begonias > Fire on the Mountain, Estimated Prophet, St. Stephen > Not Fade Away > St. Stephen, Morning Dew

Encore: One More Saturday Night