Night Lights Music Festival, in its 9th year, will once again transform The Heron, in Sherman, into a stellar three-day, three-night sound and light adventure. Featuring over 30 musical acts on three stages, camping, art installations, hiking, biking on over 200 acres, swimming, yoga, local craft vendors, great food and of course music until dawn. The 2019 Night Lights Music Festival will be bigger and better than ever, with a lineup of the best national, regional and local artists and several new additions to the overall experience.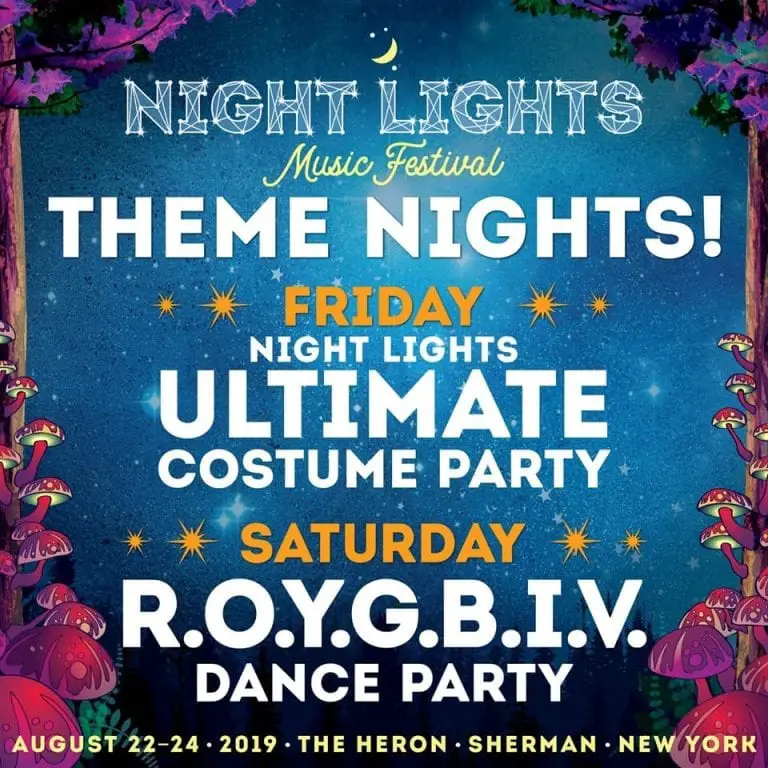 The production team works hard year-round curating a memorable event, paying close attention to all details and always focusing on what Night Lights has been about since its inception — community, art, and nature. This year there have been some additions, a LED Performance Troupe, Live Painters, and more LED lighting and design upgrades in the forest. Another thing to look forward to, as in years past, is the Theme Nights. Thursday night is coined as the "Welcome Home" party, Friday night is the Ultimate Costume Party and Saturday night features a Rainbow Theme.
Beyond the visual marvels that Night Lights offers, the lineup for 2019 has much to look forward to. Ranging from local and regional acts to national touring names, this years lineup is bigger and better than ever. Kat Horton, the Night Lights Marketing and Artist Relations specialist stated, "While creating the lineup for the festival each year it is always a priority to make sure to share new music. We want to be your gateway festival, we want you to trust us and trust that we will blow your mind." She also explained that while curating the lineup, the focus is to tell a story. "We try to create an ebb and flow to the layout of each daily schedule, we want the weekend to create a story." The daily schedules reflect this mindset, well-balanced and with surprises each day.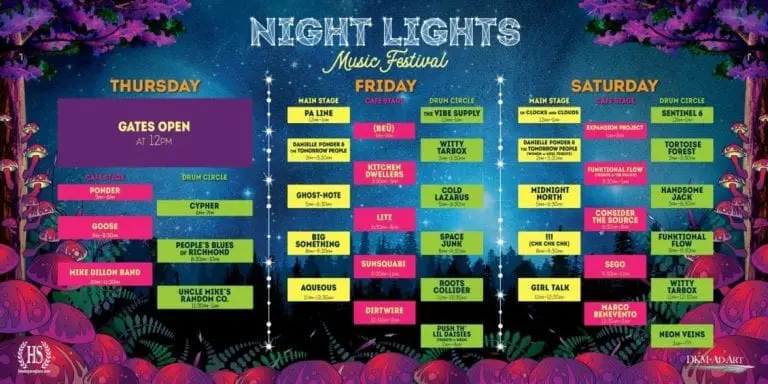 Not only is Night Lights Music Festival one of the most anticipated events to take place in New York State, but it also boasts some of the best up and coming and established regional acts and New York-based headliners. Starting on Thursday with ponder, Cypher and Uncle Mike's Random Co. (featuring Mike Gantzer and Evan McPhaden of Aqueous, Vinnie Amico of moe., Rob Compa of Dopapod, and A.C. Carter of TAUK). Friday regional acts include Aqueous, BEU, Witty Tarbox, Cold Lazarus, Space Junk, Roots Collider and a very special set entitled Push Th' Lil Daises featuring a Western New York All-Star Tribute to Ween.
The showcase of New York talent continues on Saturday. Kicking off the day is Brooklyn-based rockers Of Clocks And Clouds on the main stage and Buffalo-based Sentinel 6 on the Drum Circle stage. The day continues with Tortoise Forest, Funktional Flow, Consider The Source, another set from Witty Tarbox and a set from !!! (Chk Chk Chk). Check out the official video for "Serbia Drums" below for a little preview of the dance party that should ensue.
Tickets are on sale now, with Friday and Saturday day passes available as well as weekend passes for Thursday, Friday and Saturday. Visit the festival website for more on ticketing other information.