Phish brought their fuego to a sold out crowd at Boston's Fenway Park. The musically sound show contained songs old and new, and included large LED displays next to the stage with simulcast video from their online webcast.
Phish related goods of all kinds are being sold in high gear around Boston. NYS Music's co-founder, Pete Mason, will host a Phanart show, containing phish related merchandise from around the USA. Vendors included Andrew Bryant, Caleb Williamson, Nick DiFabbio, Section 119, Taboot Apparel, and more. The art show runs from 12pm-6pm today (Saturday, July 6) at the House of Blues Boston, conveniently located across the street from Fenway Park.
Phish's merchandise division, Dry Goods, is hosting a Pop Up Shop at 47 Jersey Street, open 11am – 4pm both days. The shop is selling a limited edition poster by David Welker, and includes colaberations with Oxford Pennant, Money Mitts, the Pillbox Bat Company and more. Phish photographer Rene Huemer will be at the Pop Up today signing prints of work with the band.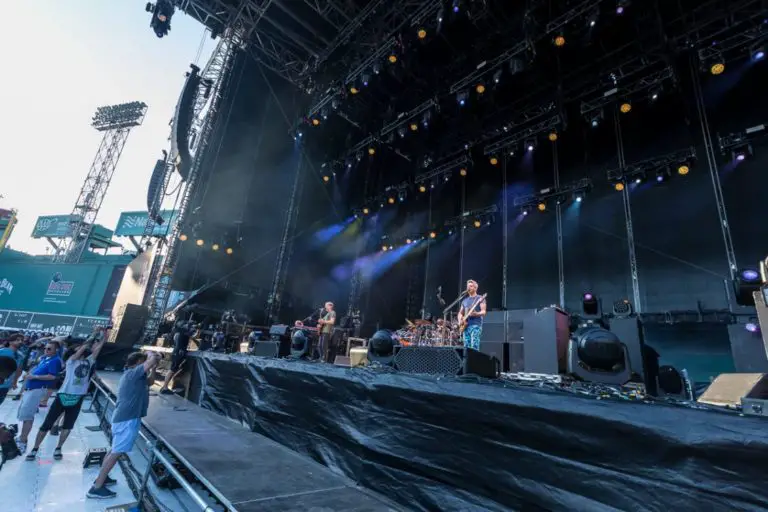 In addition this pleathora of unique merchandise for sale, Phish delivered an incredible show of classics and new songs last night at Fenway. Set one opened with smiles from the band members during fan favorite "Free." This segued into "Blaze On," mirroring the warm summer heat felt by the audience. "555," written by Gordon and Scott Murawski on their Fuego album, followed by the always funky "Tube." They busted out "Brian and Robert,",last played at Hampton Coliseum on 10/18/21. "Halfway to the Moon," another Fuego veteran, proceeded the delicious segue sandwich of "Ocelot" > "Rift" > "Everything's Right." The high energy classic "Runaway Jim" closed out the first set with the audience on their feet and yelling for more.
The second set picked up where set one left off with the funky "Sand" from the album Farmhouse, jammed into the electric "Axilla," last played at Merriweather Post Pavillion on 6/22/2019. Jam monster "Mercury," written by Anastasio and Tom Marshall, segued into the softer "Wading in the Velvet Sea," from the album Story of the Ghost. The second set closed out with the rocking jam sandwich "Fuego" > "Say It To Me S.A.N.T.O.S" > "Character Zero." "Santos," from Kozvot Vox, has become an instant fan favorite after the debut at MGM Grand on 10/31/2018.
Phish's encore sailed the fans into the gorgeous New England evening with "Bug" > "Squirming Coil," from the albums Farmhouse and Lawnboy respectively. The boys are back for another epic show at Fenway Park tonight, and two shows next week at the Mohigan Sun Casino in Connecticut.
Set 1: Free > Blaze On, 555, Tube, Brian and Robert, Halfway to the Moon, Ocelot > Rift > Everything's Right, Runaway Jim.
Set 2: Sand > Axilla, Mercury > Wading in the Velvet Sea, Fuego > Say it to Me S.A.N.T.O.S. > Character Zero.
Encore: Bug, The Squirming Coil.
Setlist courtesy of phish.net