Folk rock band Mumford & Sons rolled into Albany with an energizing show Saturday, March 2, at the Times Union Center.  From the moment Marcus Mumford, Ben Lovett, Winston Marshall and Ted Dwane walked onto the 360 degree stage, the room exploded with vitality. The musicians rotated around stage, taking turns at each corner, reaching into the crowd with intensity as they punched through an impressive two hour setlist.
A crowd of over 12,000 people sprang and danced together across the open floor as Mumford & Sons modestly entered by walking onto the stage across the floor. Singing "42," Marcus Mumford immediately found his stride with fellow musicians in a gospel sounding harmony on the well-known love song. As he leaned into the lyrics "What if I need you," fans swooned on the floor, screaming like they had years earlier for that other British boy band.
Mumford & Sons' songs differentiate them from other popular bands, defying categories. Take "Guiding Light," a harmonizing rock song with a current of electric guitars, pulsing through the air. Then "Little Lion Man" started out as a bluegrass song, with clear guitar, banjo overtones and lyrics more indie rock than the sound.
The band had lots of instrumentation changes, adding bass, fiddle and even a trombone for "Lover of the Light." Each musician doubled with at least one other instrument, including Mumford. When he jumped on the drums and pulsed through with trombone blaring, the crowd literally punched out yelps of excitement. Grown men danced in circles on the floor, fists pumping and clapping overhead.
Just when you think you've seen all Mumford & Sons can change stylistically, an electric guitar riff introduced "Tompkins Square Park." Mumford ran his hand through his wild black mane, and suddenly resembled a punk rocker as the band yet again demonstrated fluidity and flexibility. The crowd was dizzy with excitement, only growing more wild by the pop of fireworks over the band, as they finished off the electric rock song.
Mumford spoke little initially, just checking in occasionally to ask if "You still with us, Albany?" He thanked their opening act, Cat Power, and proudly announced they had four albums now, making them "real boys."
The band tore through hit after hit, impressively shifting styles, instruments, and maintaining endurance that was matched by fans who danced along. From "The Cave" to "Woman," there seemed to be no stopping the pace of the night.
Over an hour into the set, Marcus announced they were "warmed up," and ran into the crowd while the band performed "Ditmas." Interacting with audience members as he moved, walked through the floor seats and looped into the stands, dancing and interacting with audience members as he went. There was a fearlessness there, a trust in Marcus' laughter as he stumbled and sang, betraying great enjoyment of the performance. And also a willingness to be vulnerable, making mistakes in steps as part of the joy of being with others.
Accompanied by fireworks and lighting, the band played on and on, exciting audience members more and more through "Darkness Visible" and "The Wolf." After such a high intensity performance, the band seemed to disappear momentarily. Audience members waved their cell phones, imploring the band to return.
The quartet emerged at their "B stage" location, in the second level of seats surrounding a microphone. Surprised fans on camera appeared to be weeping as the quartet harmonized to "Timeshel." Before starting, Marcus asked fans to be very quiet for the next acoustic hit, pointing out "for this to work we need to get 12,000 fans to shut the fuck up at the same time. So if you feel it's your time to shine, it's not." Fans laughed, but struggled to maintain the requested peace, causing the band to stop their second acoustic performance of "Forever" twice, noting, "We talked about this mate" before finishing the tremendously romantic love song.
The band rejoined the additional musicians on the stage after, welcoming fans to enjoy their newer hit "Beloved" with keyboards accompanying the strong melodies.
Marcus expressed gratitude for the band, noting they had ever imagined when they were playing for pubs in England, that they would ever play for a crowd of this size in Albany. The band also acknowledged they were following Elton John at the TU the night before, admitting they also loved the British musician. Band members brought hands to prayer at heart center, nodding to the audience before launching into their wildly successful "I Will Wait."
The band still had one more song, "Delta," the title of the tour, to share.  There was no shortage of joy at Mumford & Sons; the band members, the audience and even security had smiles on their faces. It was an unforgettable night of talent, demonstrated not only in the musicians' flexibility and performance, but also in the band member's ability to connect with their audience through shared experience.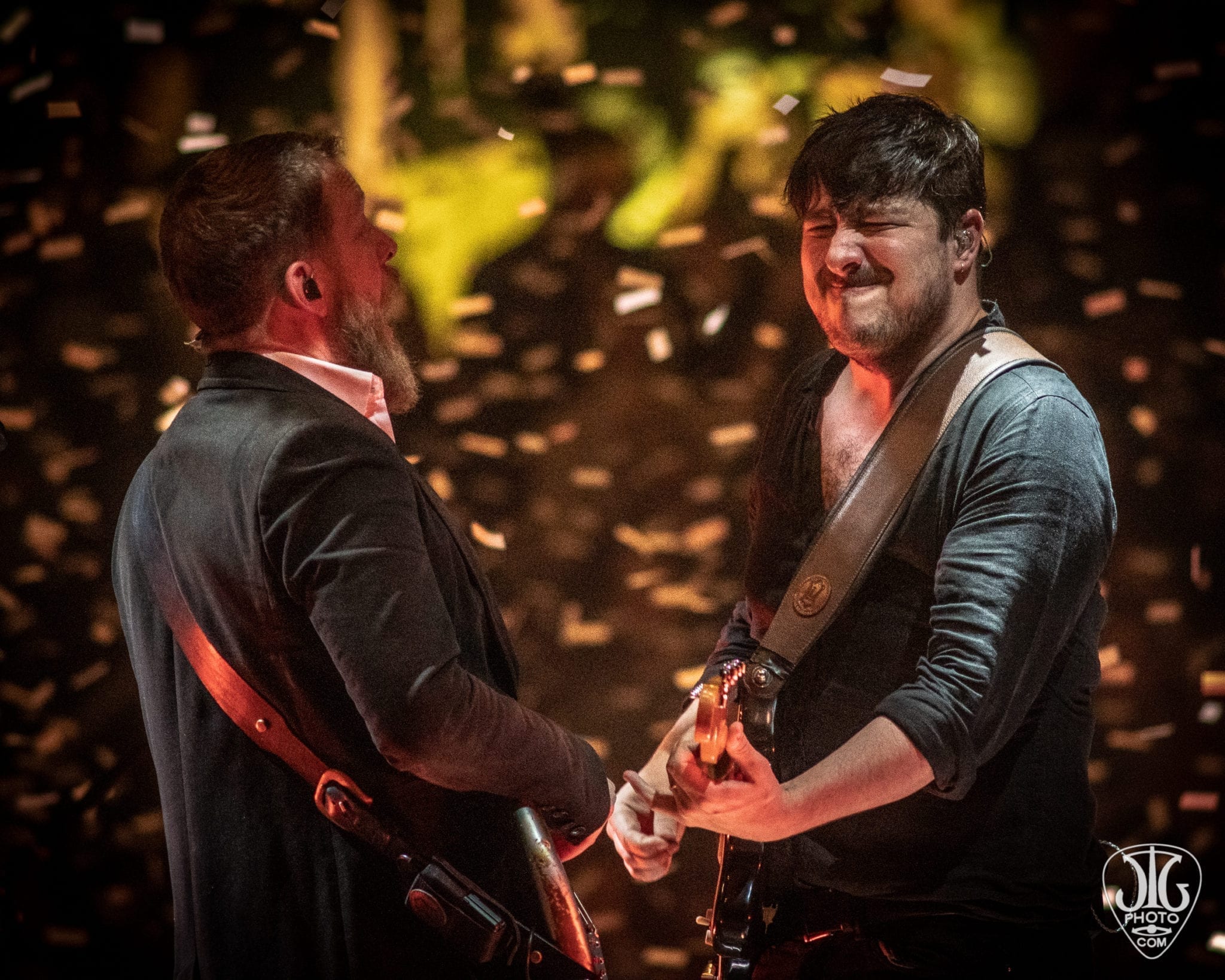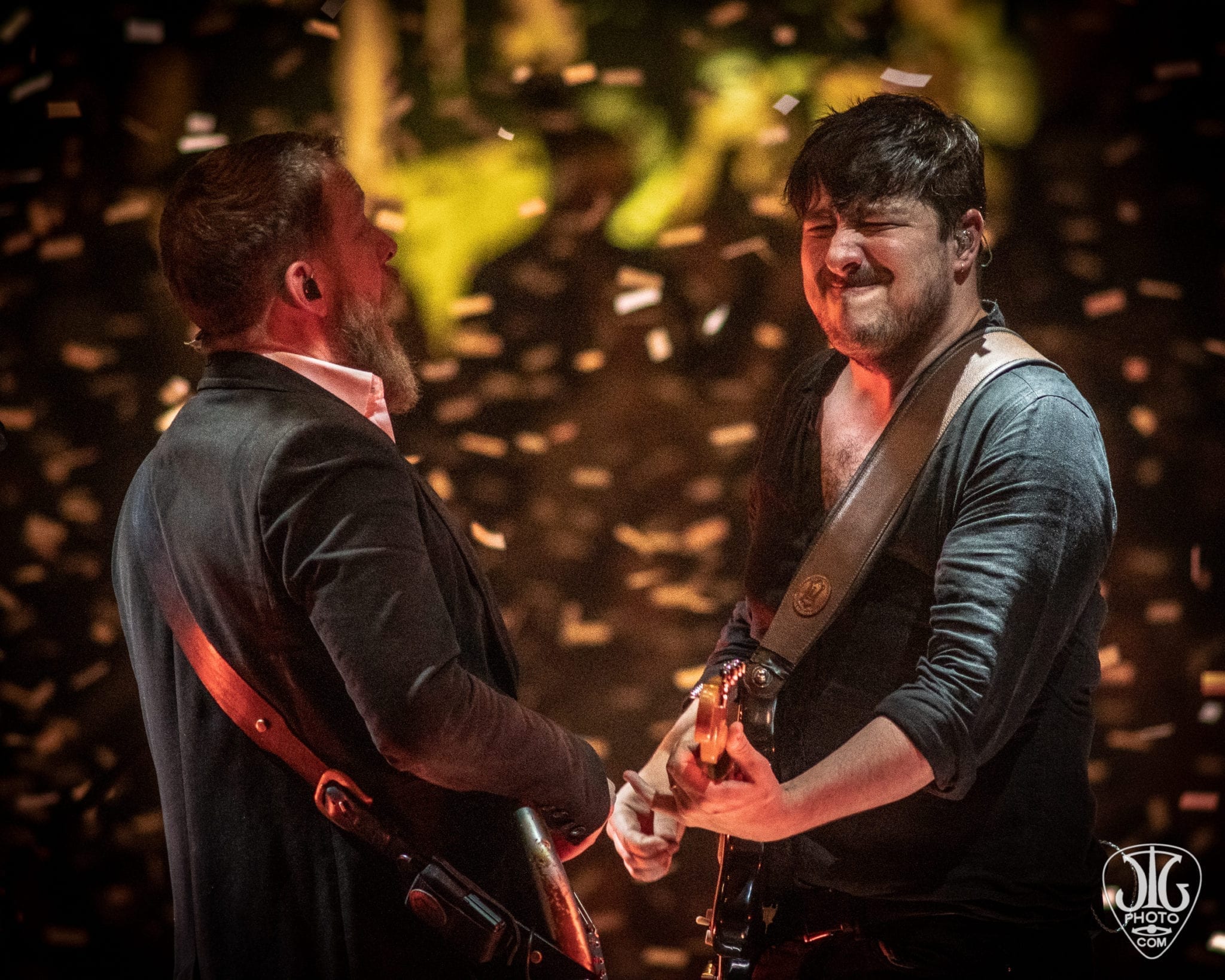 The musicians, almost magical in their ability to create harmonies through well practiced techniques, were humbly human and vulnerable.
Mumford & Sons creates a concert experience like no other. Fans were treated to a multitude of concert experiences, from gospel, bluegrass, and folk to punk and rock. Through all those categories there was a connection of people to people who danced, sang, and smiled together.  As their lyrics promised, "Walk with me, I think we'll find a way."
To use Mumford's language, it was a fucking awesome night. If you get the chance to be in their presence, grab it with both hands.
---
Set List: 42, Guiding Light, Little Lion Man, Lover of the Light, Tompkins Square Park, Woman, Holland Road, The Cave, Roll Away Your Stone, Ditmas (Marcus in crowd), Picture You, Darkness Visible, The Wolf, Timshel(unplugged; around one microphone), Forever (b-stage debut; unplugged, around one microphone), Believe, Beloved, I Will Wait, Delta