Josie Bello has a Country-Rock vocal style, combined with the skillful musicianship evident throughout the CD, have prompted a number of listeners on ReverbNation to ask the question, "Were these recordings done in Nashville?"
The album was, in fact, produced and recorded on Long Island at Melts In Your Ears Studio and mixed at Workshoppe East, both located in Huntington.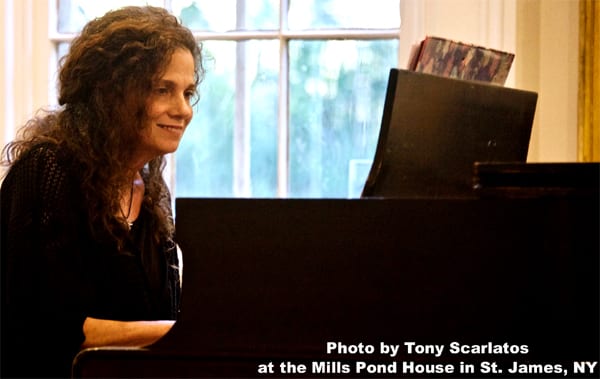 Can't Go Home contains 10 tracks of original music in which Josie covers a wide range of subjects related to the human condition. The title track contemplates the loss of one's past. Other tracks cover themes such as infidelity ("Dignity"), infatuation ("Crush"), relationships ("Good People," "Bad Love"), drug addiction ("Mother's Love"), Long Island living ("Kit House") and even political partisanship ("Two Trains"), co-written by producer Mike Nugent and the only co-write on the album.
The very active live music scene on Long Island, and the abundance of local talent continues to inspire Josie as a songwriter and performer.
Josie enjoys creating images and telling stories through song and often says, "Hooks are everywhere, you just need to listen".
She'll tell you that she's been singing every day of her life — around the house and everywhere she's been since childhood. She can remember her mother saying to her, "Please, try to pipe down, just for a little while".
Luckily for local musicinans, Josie is quite active on the Long Island music scene. She runs several open mics: at Urban Coffee in Greenlawn on the 2nd and 4th Fridays of the month and at the Park Lounge in Kings Park on 3rd Fridays.
Additionally, once a month she hosts a singer-songwriter night at Urban Coffee. Josie performs with her husband Frank Bello as "Duo Bello" at many festivals throughout the island, including their annual hosting of the Long Island Fall Festival Acoustic Stage. She is honored to participate in the LI-based group OOMPA (Organization of Open Mic Performing Artists) and recognizes all the talent and support their membership provides to open mics and musical charitable events throughout the Island.
Josie's music is available on most digital distribution platforms such as iTunes and CD Baby. A hard copy of the CD can also be purchased at CD Baby.
This article was originally published by Under the Radar – Covering the Long Island Music Scene and appears as a special to NYS Music. Under the Radar and NYS Music work in partnership to provide readers with in-depth coverage on the local music scene across Long Island. For more, visit BreslauBombers.com.