This weekend marks the 15th annual Great American Irish Festival, in Frankfort, NY.  This festival is a favorite for all that attend and perform.  It is completely volunteer run, and offers two days packed with the best of the best in Celtic music, food, games, merchandise, and culture.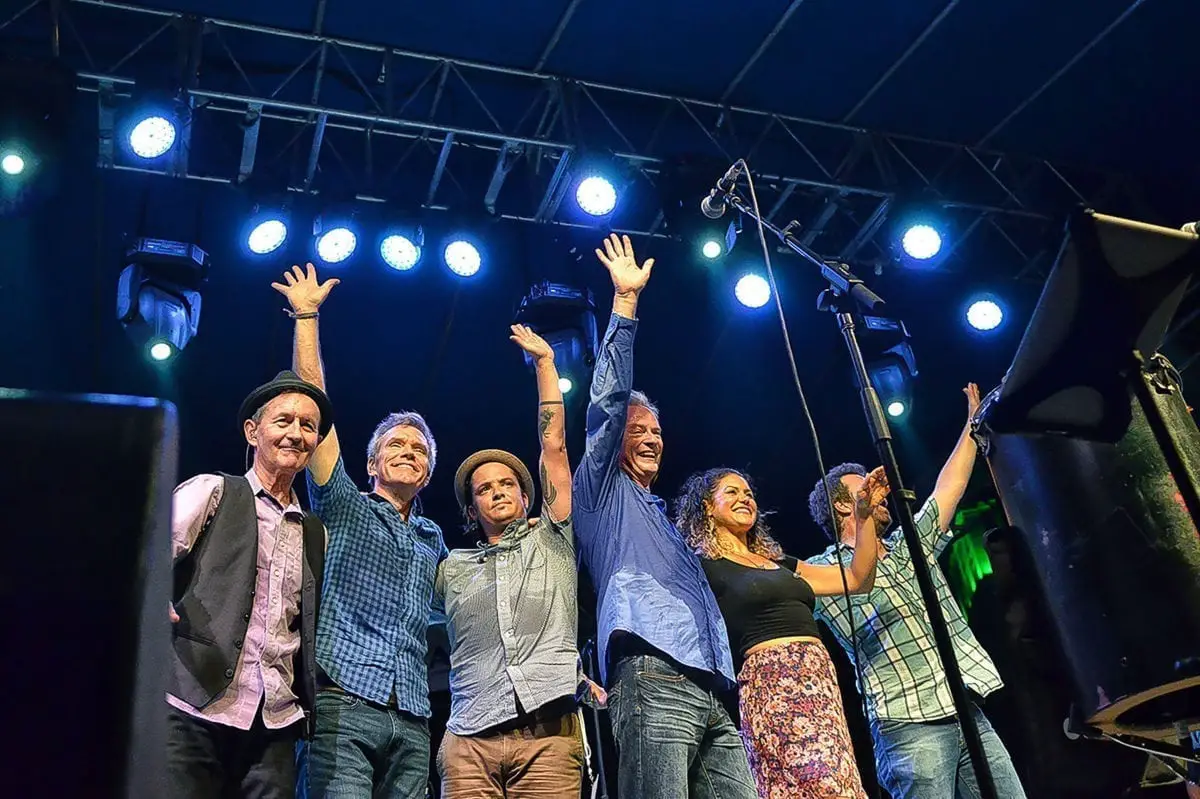 Headlining this years Contemporary Stage are fan favorites, The Elders. Since making their first appearance in 2007, they have captured the hearts of all that see them.  Earlier this year the band made an announcement that they plan to retire, and this will be the final year they tour and perform at the festival, so all the more reason to come down both days to send them off in style.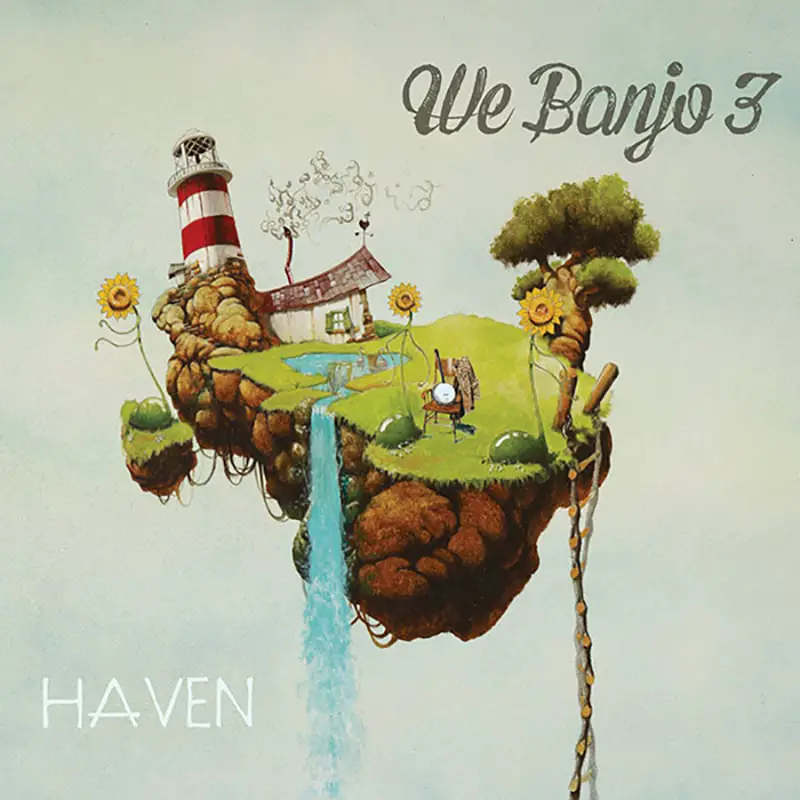 This year the festival also welcomes the highly anticipated arrival of We Banjo 3, an award winning band from Galway, Ireland.  This is their first appearance at our festival, and coincidentally also their release date of their latest album Haven.  Only performing on Friday evening, these four Irish men can now boast that they have played for POTUS and GAIF!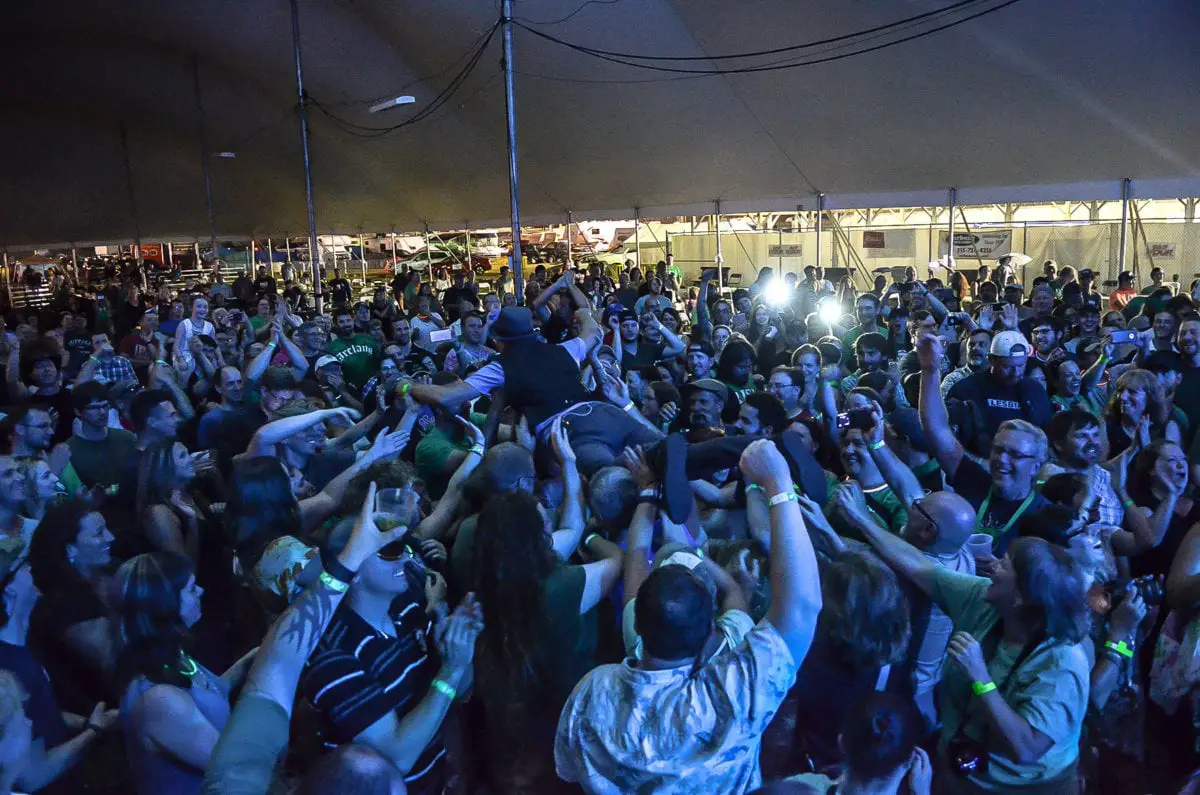 Also returning this year are all our favorites such as Enter the Haggis, Barleyjuice, American Rogues, Searson, 1916, The Gothard Sisters, The Moxie Strings, and so many more. Please see schedule below for times and stages.
The 5K Ranger Run will begin Saturday morning at 9am and the Highland Games will continue all weekend long.  Activities for young and old are packed into the weekend, with new events such as Sip and Paint, the Irish Comedians, and favorites such as Whiskey Tasting, Pipe Band Competition, and Irish Dancing.
It wouldn't be an Irish Festival if it didn't have a torrential downpour, but like always it never dampens the spirits and with all stages under cover, there is no reason not to come down and brighten your day with some amazing performances.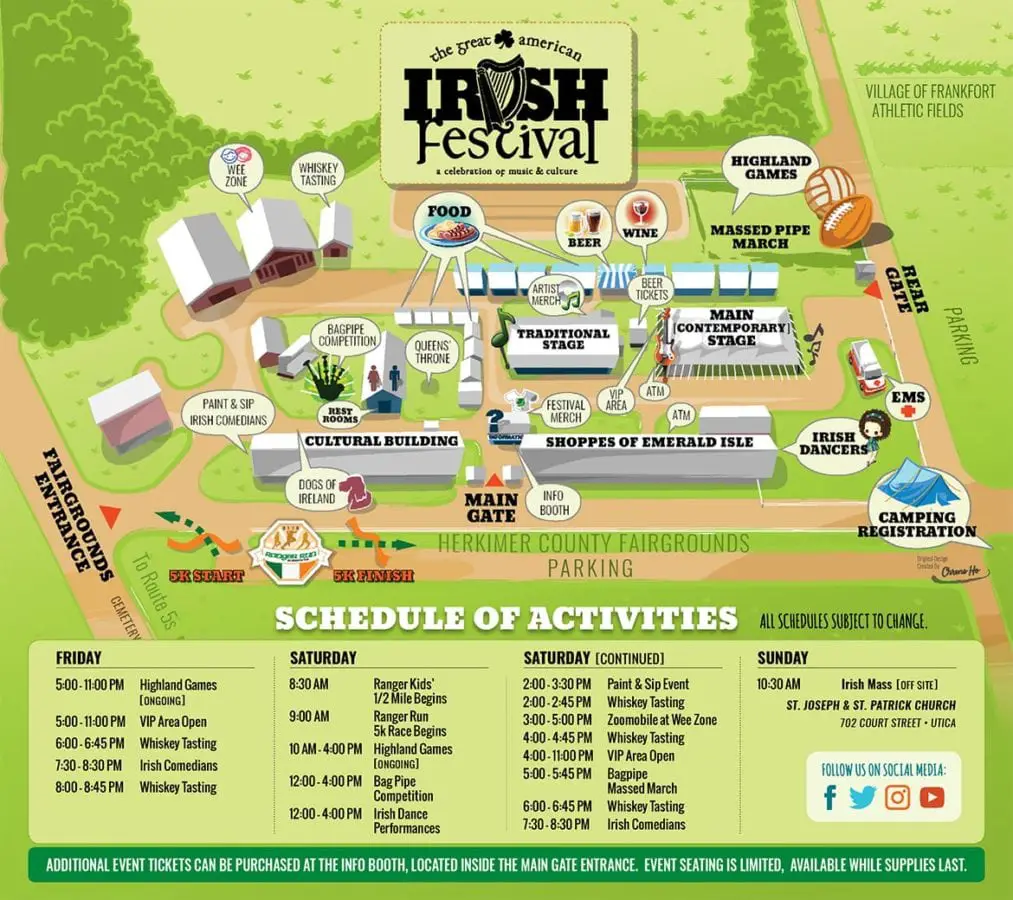 Tickets are available at the Gate both Friday night for only $18 and Saturday for only $20. Children 12 and under AND active military members (with valid ID) and immediate family are free.
Gates will open Friday, July 27th from 5 pm – 11 pm and Saturday, July 28th from 11 am – 11 pm.  On Sunday, July 29th an Irish Mass will be held at 10:30 am at St. Joseph & St. Patrick Church located at 702 Columbia Street Utica.
Parking at the festival has traditionally been free. However, this year, we are coordinating with the Notre Dame High School's NJROTC. The NJROTC will help coordinate parking. For their help, we are requesting each vehicle donate $1.00 to help support them.

Friday, July 27th
Contemporary Stage
5:00 – 6:10       American Rogues
6:40 – 7:50       Enter The Haggis
8:20 – 9:30       We Banjo 3
10:00 – 11:10    The Elders
Traditional Stage
5:00 – 5:50       Moxie Strings
6:10 – 7:10        Gothard Sisters
7:50 – 8:50       Arise & Go
9:10 – 10:10      Searson
Saturday, July 28th
Pipe Band Competition starts at 12:00
Contemporary Stage
11:30 – 12:40    Blarney Rebel Band
1:00 – 2:10        Searson
2:30 – 3:40       1916
4:00 – 5:00       American Rogues
5:00 – 5:45        Massed Pipe Band March
5:45 – 7:20       Barleyjuice
7:50 – 9:20       Enter the Haggis
9:50 – 11:00     The Elders
Traditional Stage
11:00 – 12:20   Craobh Dugan
12:45 – 1:35      Triskele
1:55 – 2:45        Stoutmen
3:00- 3:55         Donal O'Shaughnessy
4:10 – 5:00       House of Hamill
5:00 – 5:45        Massed Pipe Band March
5:45 – 6:35       Moxie Strings
7:00 – 7:50       Gothard Sisters
8:10 – 9:00        Hair of the Dog
9:20 – 10:10     Searson