Folkfaces Spring Tour Underway
Folkfaces are hitting the road, with a hometown show at Nietzsche's in Buffalo on March 24. with the support of Pine Fever and The Tenants. The quartet then takes to the road, blazing a trail through the Midwest all the way down through Tennessee and Kentucky.
Folkfaces is a Buffalo-based original music outfit with a lineup of members of unique and varying musical backgrounds. The band consists of Tyler Westcott (guitar, vocals), Ellen Pieroni (saxophones), Patrick Jackson (upright bass), and Dan Schwach (drums, washboard). The quartet draws from melting pot of musical traditions, fusing genres such as Americana, folk, roots, blues, and jazz. They have been working on a sophomore album to be released later this year, a follow-up to last year's How Long?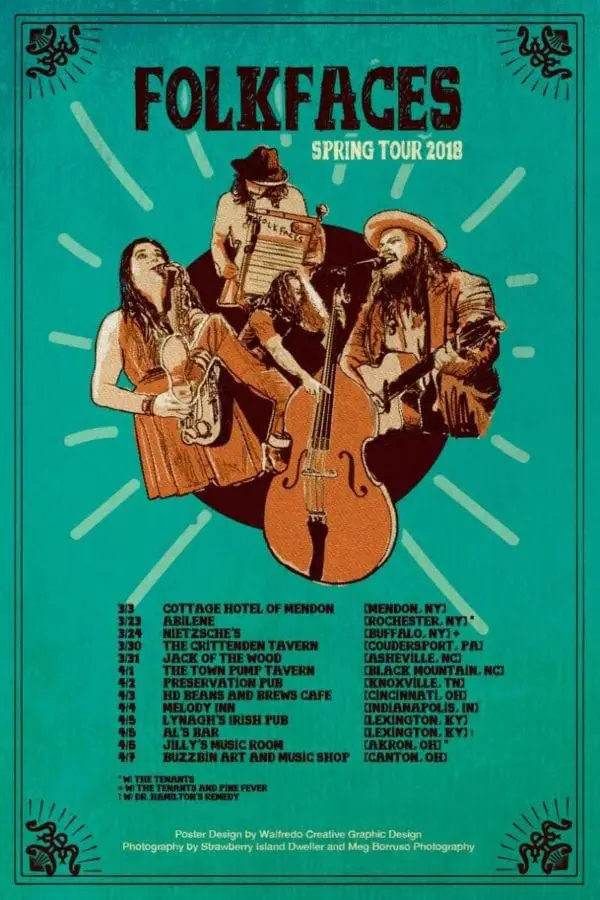 Folk Faces Tour Dates:
3/24 – Nietzsche's w/ Pine Fever & The Tenants – Buffalo, NY
3/30 – The Hotel Crittenden -Coudersport, PA
3/31 – Jack of the Wood – Asheville, NC
4/1 – The Town Pump Tavern – Black Mountain, NC
4/2 – Preservation Pub – Knoxville, TN
4/3 – HD Beans & Brews Cafe – Cincinnati, OH
4/4 – Melody Inn – Indianapolis, IN
4/5 – Lynagh's Irish Pub – Lexington, KY
4/5 – Al's Bar of Lexington w/ Dr. Hamilton's Remedy – Lexington, KY
4/6-  Jilly's Music Room w/ The Tenants – Akron, OH
4/7 – Buzzbin Art & Music Shop w/ Intrepid Travelers – Canton, OH