In an over abundance of summer music festivals, it seems like Pigeons Playing Ping Pong is doing something right between their electrifying grooves, growing fan base and festival curation talents. Among the overflow of festival lineup announcements, PPPP's Domefest joins the ranks with an announcement of their full 2018 lineup.
After nine years of annual P4 planning and putting the fun in funk, this year's lineup offers a powerhouse bill with five sets of PPPP, two sets of the Magic Beans and final additions of Broccoli Samurai, Mungion, Joe Hertler & the Rainbow Seekers, Strange Machines, Flux Capacitor, Formula 5, Cycles, ShwizZ, Headless Robot and Schwa.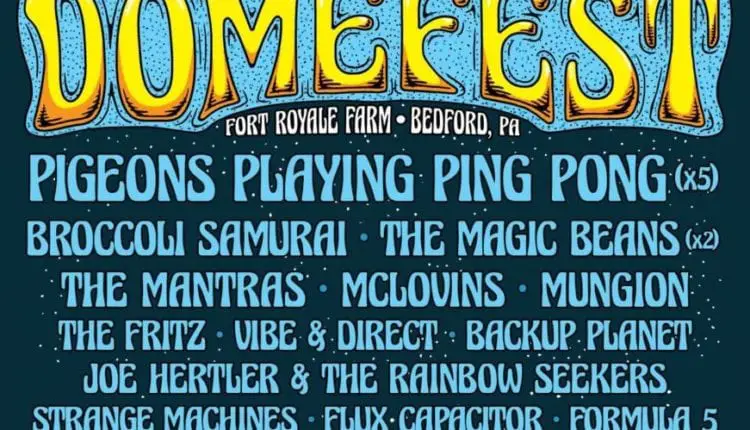 The Bedford, PA festival, run by bandmates Jeremy Schon and Greg Ormont, calls Fort Royale Farm home and will host growing talents in the scene from May 17-19. Over the years, the festival as well as the group's fan base has multiplied in size and further solidified their independent Domefest efforts. Each year the quartet manages to offer up jam-filled lineups and book prevalent, up and coming names such as Papadosio, Turkuaz, Tauk and Aqueous.
"We're back at the same incredible venue with lots of fresh and familiar faces," says Schon. "Our family has grown quite a bit over the past few years and I can't wait to see everyone back on the farm."
Artists are welcomed and encouraged to sit back and relax as they create one of a kind memories with the fans, molding a unique experience apart from the larger festivals on the touring circuit. For an expanded three days and three nights, fans and artists alike can enjoy a multitude of workshops from yoga, meditation to juggling and improvisation, woven between daily schedules of funk.
Domefest 2018 will give fans a quintuple dose of Pigeons Playing Ping Pong and an added second set of The Magic Beans. If five sets of Pigeons isn't enough, front man Greg Ormont brings his solo project, Scrambled Greg, to the forefront of the stage while Schwa will feature P4 bassist Ben Carrey.
"We hope that our fans leave with a laundry list of new favorite bands, which is what Domefest is all about. Alongside many of our familiar favorites, we're bringing in a lot of new bands that will blow everyone away. I couldn't be happier with the way this year's lineup turned out!"
Known for sneaking in fan-favorite cover sets, let's see how Pigeons will top their 2017 undercover set of Phish and Grateful Dead tunes.
A limited allotment of $100 3-day passes are now on sale and can be purchased here. Stay tuned to Domefest's official website, Facebook page and event page for future announcements including artist additions, complimentary workshops and ticketing updates.
Domefest 2018 Final Lineup:
Pigeons Playing Ping Pong (x5)
Broccoli Samurai
The Magic Beans (x2)
The Mantras
McLovins
Mungion
The Fritz
Vibe & Direct
Joe Hertler & The Rainbow Seekers
Backup Planet
Strange Machines
Flux Capacitor
Formula 5
West End Blend
Deaf Scene
Cycles
ShwizZ
Scrambled Greg (feat. Greg Ormont of PPPP)
Squaring The Circle
Mateo Monk
Ernie Johnson From Detroit
Headless Robot