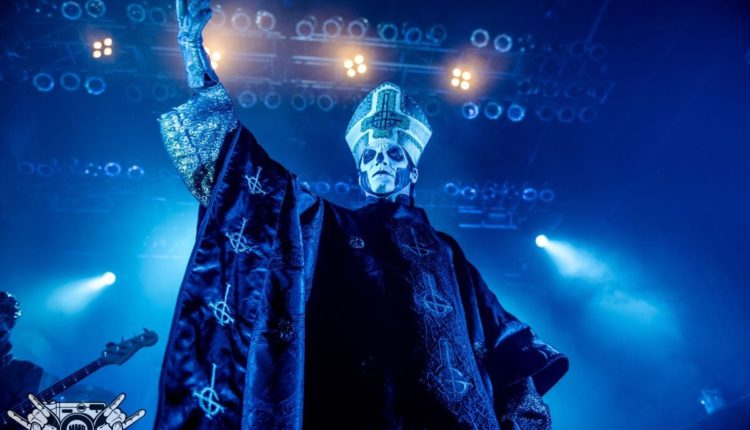 Ghost Frontman Being Sued by Former Band Mates
Tobias Forge, aka Papa Emeritus, frontman of the Grammy Award winning band Ghost, is being sued by his former Nameless Ghouls, who feel that they been cheated out of money by Forge. The band claims that Forge has cheated them out of profits from royalties stemming from album releases and world tours. There have been several instances throughout the years of Forge not paying bandmates and disclosing financial income statements claiming that the company has yet to be profitable.
Fired bandmates filed their lawsuit in Linkoping, Sweden. The lawsuit states Forge solely controlled all business affairs for the band. The former Nameless Ghouls state that they had a partnership agreement with Forge, putting Forge in charge of the company's management duties.  Forge, through his lawyer contests the claims of a partnership. The lawsuit also states since 2010, that Forge, through his company, collected revenues from all merchandise and music recordings. Forge claimed that the company was not yet profitable, but has provided no financial statements proving otherwise.
Band members, through the courts, want Forge to disclose the company's revenues and expenses between the years 2011-2016, and the company's assets as of December 31, 2016.
After not receiving any kind of compensation from Ghost in 2012, Forge felt pressured by bandmates, and paid sporadic amounts to the other musicians after they didn't receive any kind of compensation for their work. Forge still claimed that the company's pockets were empty.
Forge insulted the band members with two separate contract proposals. The four band members in the lawsuit called the contracts "Slave Agreements." During this time, tension between Forge and the band started to mount leading to guitarist Martin Persner, leaving the band in July 2016. Persner is not one of the four members who filed suit.
Forge is credited for writing a majority of the music for Ghost.
Fans of Ghost can check out the new lineup when the bands tour comes to The Palace Theatre in Albany on June 6.