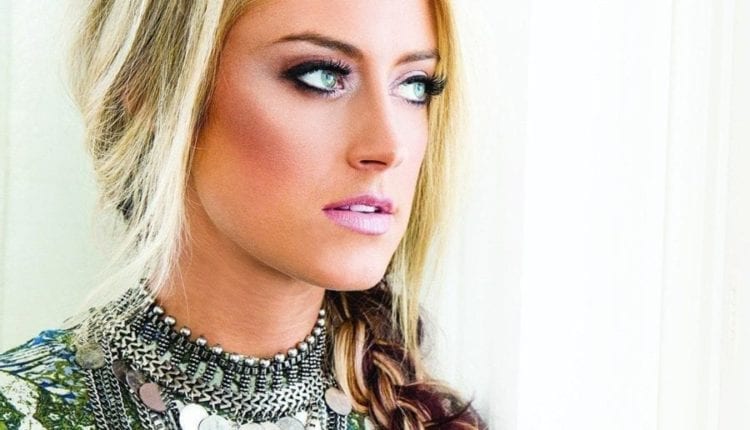 Saturday, March 4, the Venu in Buffalo will welcome one of Nashville's newest on-the-rise female country stars, Brooke Eden.  With a powerful voice and a talent for capturing emotions in words, this multi-talented singer/song writer has carved out a niche in Nashville, shining like the diamonds she sings about on her latest EP Welcome to the Weekend.
With a powerfully commanding voice, this young lady demands a presence the minute she begins singing. Eden has been named an Amazon Music "Artist to Watch in 2017," one of CMT's "Next Women of Country," one of Vogue's "10 Country 'It' Girls," PEOPLE's "Seven New Country Acts You Should Check Out" and a Spotify "Spotlight 2016 Artist." Agreeing wholeheartedly with these much deserved accolades, it's only a matter of time before Brooke Eden is a common household name.
https://youtu.be/B_ZwiU1p-I4?list=PL9r8ps10wBl48jgEpNn7uBH3BlTZqx-8e
Ms. Eden took a moment recently to chat with NYS Music and introduce herself to our readers as she's kicking off her first North American tour this month.
Kathy Stockbridge: Hi, Brooke. Thank you for taking the time to talk with our readers at NYS Music. So very excited to welcome you to Buffalo on March 4 at the Venu. Although normally really cold here this time of year, we are sending you a warm welcome as you roll into town. Tell us a little about this "Welcome to the Weekend Tour" and what you are looking forward to most while on the road for your new album.
Brooke Eden: We're going all over the country and to Canada! I'm really looking forward to it, because it's the first time I've had a real body of work out there for fans to hold onto and get to know before a show. I can't wait to meet new fans and see some familiar faces.
KS: For those not familiar with your journey in the music industry, you have been around music your whole life as your father has been in a band since you were very little. Has country music always been a draw to you or do you find that all genres of music have influenced your music over the years?
BE: I love all types of music now, but I grew up on straight up country radio. Although influenced by pop, rock and soul music, I always knew country music was my home. Once you experience a Honky Tonk, it's hard to look back, and I was singing in the Honky Tonks since I was 6. It's just always felt the most natural to me.
KS: I understand that you were active in music in school. Was your school music program an influence and if so do you think that's important for kids who may want to pursue music as a career?
BE: I was very involved in the music programs in school, from the very beginning of kindergarten. My high school chorus program was intense…we would play 100 shows a year, and I think that prepared me for the music industry in its own way without me knowing it. We also traveled internationally to sing for ambassadors of countries and that taught me so much, how to act in professional situations and how to entertain a large or small group of people. It was an invaluable time in my life.
KS: You are a very accomplished song writer as well as a performer. How long have you been writing, and how do you find inspiration for your songs?

BE: I always loved writing stories in English class, and wrote some songs on my own before I moved to Nashville. But when I moved to Nashville was really when I felt like I became a songwriter. I immersed myself in the songwriting community and they welcomed me in with open arms. Nashville is beautiful like that.
KS: Your journey has not been an easy one. You participated in American Idol and although you made it to the next round to Hollywood, you were let go prior to that. How did that affect your outlook on the music industry and you do you think it was a blessing in disguise?
BE: It was totally a blessing in disguise. It was the kick in the ass that I needed to make me realize I needed to be working harder. It showed me that even through the late nights and early mornings that this is what I wanted. I wanted to wake up everyday and sing. I wanted to make music my career. Without that experience, I don't know how long it would've taken me to realize that I was tough enough to make it in this industry.
KS: You have opened for some huge names in the business such as Tim McGraw, Alan Jackson, Sugarland and Florida Georgia Line. What was that like for you to share the stage with these folks? And what were you able to take away from these experiences?
BE: Opening for Tim was one of the highlights of my career thus far because it reminded me of where I came from. The first single I ever bought, when I was in 1st grade, was McGraw's "I Like It, I Love It." I remember teaching my whole 1st grade class all the words on the bus! Fast forward to almost 20 years later, and I'm opening a show for my country music fave.
Another highlight was getting to sing "Baby Girl" on stage with Sugarland in front of 20,000 people in my hometown. The emotions were high that night as I looked out into the sea of faces and saw people that used to watch me sing when I was 6 years old. The video of that performance later on actually helped me land my record deal.
KS: Hard work and pure talent has brought you to this point in your career, I admire your determination and see great things ahead for you. What do you see ahead for yourself as you conquer your goals and make your mark in the music industry?
BE: I would love to release a full length album in the next year, with 12 songs that I'm super proud of. Songs that show every side of me that relate with how my fans are feeling.
KS: As you perform each night in each city, what message are you hoping to leave with your fans?
BE: I hope my fans feel less alone when they leave my concert. I also hope they just had a plain ole good time that lets them escape from reality for a little.
KS: Thank you again so much for taking the time to talk with us and we can't wait to welcome you March 4 at The Venu in Buffalo.
BE: Thank you, can't wait!
---
No plans yet for this Saturday? Mark your calendars and get your tickets as we welcome Brooke Eden to Buffalo's newest country music club, the Venu. This will be one show you're glad you didn't miss.