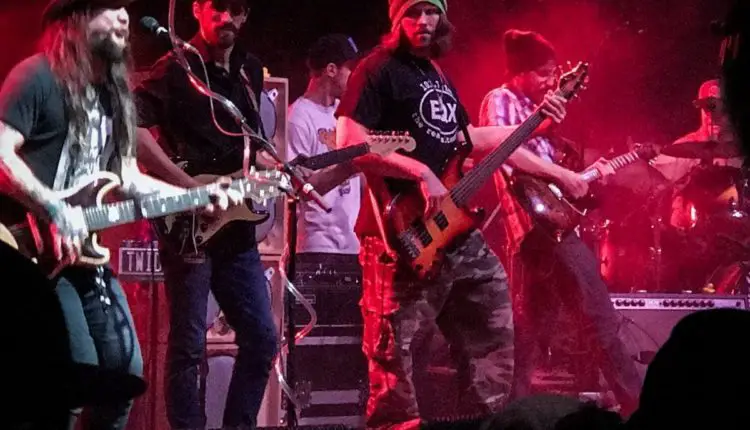 Vermont jam quartet Twiddle has teamed up with Buffalo based groove rockers Aqueous for a six city stint this spring.  The tour includes a two-night engagement in Aqueous' hometown at the historic Town Ballroom Saturday March 4 and Sunday March 5. The small run was kicked off with a two-night run in Boulder, Colorado.
Both Twiddle and Aqueous have been enjoying separate tours, while simultaneously joining forces. After Buffalo, the two bands will make stops together in Keene (NH), Stroudsburg (PA), and Washington, DC before concluding the tour at the PlayStation Theater in New York City.
While the Town Ballroom shows mark Twiddle's first two-night run at the Theatre District venue, the weekend holds a more distinct honor for Aqueous. Although the band has sold out nearly every venue in their hometown, Saturday's show will be the band's first time gracing the stage at this particular venue.
Guitarist Mike Ganzter told NYS Music that after being on the road for a month, the homecoming shows have even more meaning. "We're unbelievably psyched to come home to our Buffalo fan base and throw down heavy for them," noted Ganzter, who didn't skip mentioning how honored the band is to finally play inside the hallowed venue.  "We're super pumped for our debut at Town Ballroom too, especially considering we all grew up catching shows there and have always wanted to play on that stage."
The weekend will also be a first for the Twiddle fan funded organization the White Light Foundation. A 501 C-3 that often travels to shows in tandem with the band, the White Light Foundation strives to give back to the communities in which Twiddle tours. This weekend's fundraiser will be the organziation's first time in Buffalo. Sales from a commemorative coin designed by Buffalo based fan artists Dirty Burdz Goods, as well as other fundraising efforts at the event will benefit Buffalo based organization Crisis Services as well as the Perry based rescue  Going to the Dogs. 
Plenty of fans from all over the Northeast will be making the trip to Buffalo this weekend.  Karen Coons, of New Hampshire, travels often for Twiddle shows. She's been wanting to see Aqueous in their hometown since seeing the band in a small New Hampshire venue last year.  When asked why she would make the eight hour journey, Coons told NYS Music, "Between the community of fans and the face-melting music, how could I not go? Every Twiddle or Aqueous weekend is the best weekend of my life, hands down, and I'm not the type to turn down the best weekend of my life because it's too far away!"
Marissa Greggs, of Rochester, is excited for her first Twiddle shows.  "I discovered Twiddle while listening to Pandora radio.  I was instantly drawn to the lyrics.  I've been pouring over live shows online and I'm really excited to finally see them live. I've seen so many great shows at the Town Ballroom.  I can't wait to add these shows to the list.
Ganzter also noted that the weekend will be full of energy and possibly even a few surprises. "We've also been having a blast rocking shows with Twiddle, so this is set to be a raging weekend; I think we may debut some new stuff and dig up some old stuff too!"
Buffalo native, Keith Bykowski, summed up the feeling of many Aqueous fans, known as AQuaintences as the fan base prepares for this weekends shows. "As musicians, Aqueous brings a unique style and unmatched energy to the stage that is only amplified when they throw down for their hometown. Aqueous brings out so many of the kindest, friendliest, and most fun people I've ever met. Whether it's for the music, the friends, the thrill of a large-scale venue with the comfort and intimacy of a basement party set, or all of the above, it'd simply be foolish to miss an Aqueous show in the Queen City."
Tickets for both nights are still available. A limited number of two day passes are available for only $35. Single evening tickets are only $20.