Phish has found a way to utilize the space inside Madison Square Garden for New Years Eve celebrations for more than 20 years. They've been scientists in a time lab, made it snow, flew in on a giant hotdog, lifted fans off the floor, held a runaway golfcart marathon, and moved the stage (twice), all as part of their celebration to ring in the new year.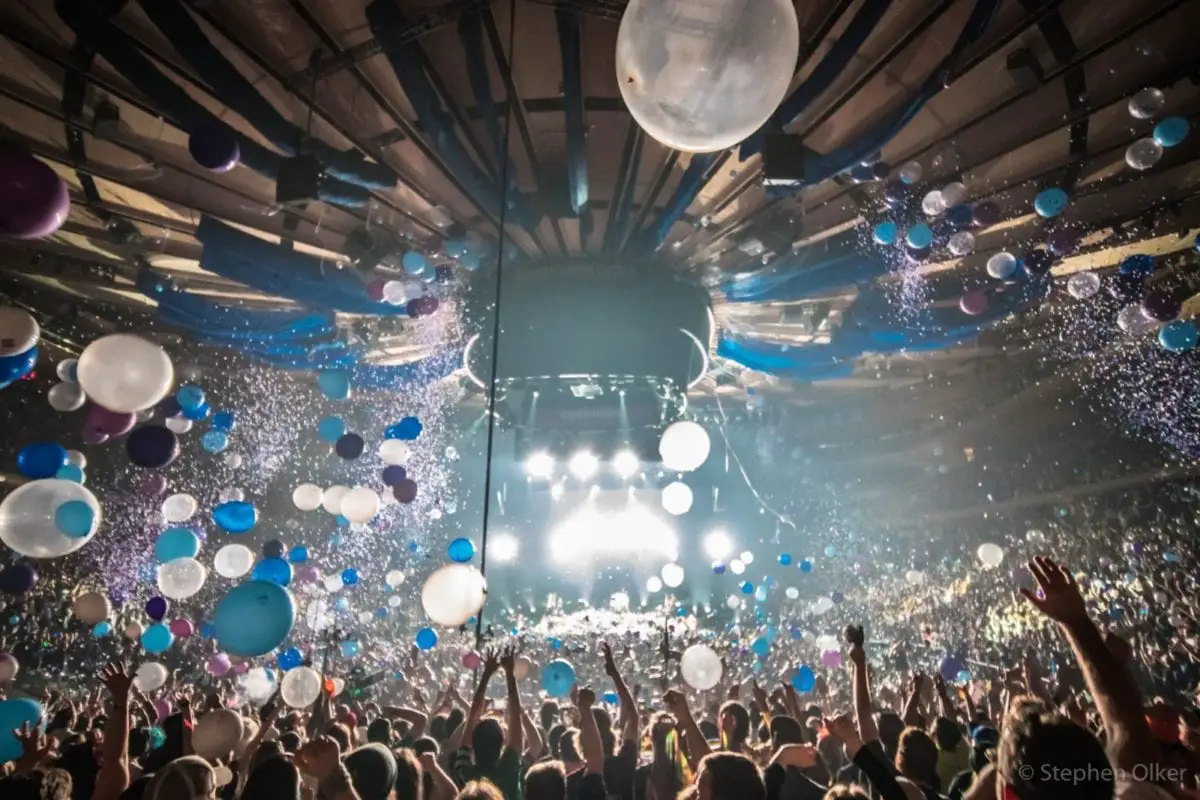 So what do you do when you've already done this much with the room? You make it rain in the closing minutes of 2016, after wrapping up one of the strongest sets Phish has ever played at MSG, and in doing so washing away a year many would like to forget.
The show began as the other three nights did, with an acapella rendition of a rarely played song, in this case, Fraternity of Man's "Don't Bogart That Joint," keeping fans on their feet and crossing a rarity off the list of many fans. "Your Pet Cat" > "Kill Devil Falls" > "Back on the Train" > "My Soul" served to keep energy nice and high for the beginning of the night, when Trey took a minute to opine about the extra 6 feet of stage they had in front of them, and what could they possibly do with it but let The Chairman of the Boards, Page McConnell, take a stroll out on the stage while crooning "Lawn Boy." Page and Mike Gordon alike took a wander around the enlarged stage, wandering over to Mike Side and Page Side, greeting fans and smiling widely. A well-placed "Divided Sky" followed before the energy kicked back up again with "Ya Mar," "Character Zero," and "Walls of the Cave," all setting the stage for another monster second set.
The night before in the second set, Phish dropped a "Tweezer" > "Sparks" > "Ghost" > "Light" for the ages, and given the three sets they had tonight, they had set the bar high for themselves and the challenge was accepted. Dropping into "2001" to get things rolling, the Garden dance party was in effect, getting dark upon entry into "Carini" and lighter again with Trey's ascending jam in the "Twist" that followed. The segue into "Piper" was interrupted by Fishman singing his hilarious yet brief "Ass Handed," which segued back into the rest of "Piper," during which Trey played the marimba lumina and Mike joined Page on keys for a yet another full band jam. A filthy "Sand" followed, as did a perfectly placed and executed "Slave to the Traffic Light," wrapping up the set with "More," a fan favorite off the recent Big Boat, the line "In a world gone mad, there must be something more than this" resonating with the crowd.
During the intermission between second and third sets, fans made their final preparations for ringing in the new year while the stage was set for Phish's NYE stunt, including additional keys for Jeff Tanski, percussion for Andres Forero and mics for a horn trio of Jennifer Hartswick, James Casey and Natalie Cressman. Fans awaited patiently for the lights to dim and musicians to take the stage in the 20 minutes before midnight, which saw a full band performance of "Petrichor" complete with a choreographed performance of faceless umbrella-wielding dancers and artificial rain courtesy of David Gallo Design.
As the dancers broke into their routine, they used umbrellas for props to block them from the falling 'rain,' an incredible sight inside the confines of Madison Square Garden. The dancers then used floating white umbrellas to continue their routine as the song moved through its 22 sections, culminating in the dancers standing at the front of the stage, awaiting Trey's 2-minute early countdown, to which he jokingly commented "Well, it's never too soon to say goodbye to 2016" as he began the countdown and the band broke into the traditional "Auld Lang Syne." And with that, from the ceiling it rained down cats, dogs and foam rain drops, as well as thousands of balloons and confetti, making it hard to find band members on stage amid the decorative chaos.
Over the next hour, Phish pushed into the new year with horns a blazin', starting with "Suzy Greenberg" and "No Man's in No Man's Land." Following were lackluster choices that fit well with the horns, and made the first set of 2017 feel like a true Phish first set – "Breath and Burning," "Tide Turns," "555" and "Ocelot" were all odd choices after 3.5 nights of powerful sets with little pause or relief, but given the horns and accompaniment onstage, they were apt selections that had audience dancing and laughing into the finale of the high energy "First Tube." A cover of The Rolling Stones "Loving Cup" ended the run at the Garden and amid a sea of cats, dogs and rain drops, fans hugged, smiled and greeted 2017, having seen one of Phish's finest New Years runs and NYE stunts to date.
Setlist courtesy of Phish.net
Set 1: Don't Bogart That Joint, Your Pet Cat > Kill Devil Falls > Back on the Train > My Soul, Lawn Boy, Divided Sky, Ya Mar, Character Zero, Walls of the Cave
Set 2: Also Sprach Zarathustra > Carini -> Twist > Piper -> Ass Handed > Piper[1] > Sand, Slave to the Traffic Light, More
Set 3: Petrichor[2] > Auld Lang Syne[3] > Suzy Greenberg[2], No Men In No Man's Land[2], Breath and Burning[2], Tide Turns[2], 555[2], Ocelot[2], First Tube[2]
Encore: Loving Cup[2]
[1] Trey on Marimba Lumina. Mike on keys.
[2] James Casey on saxophone, Natalie Cressman on trombone and vocals, Jennifer Hartswick on trumpet and vocals, Jeff Tanski on keys, and Andres Forero on percussion.
[3] James Casey on saxophone, Natalie Cressman on trombone, Jennifer Hartswick on trumpet, Jeff Tanski on keys, and Andres Forero on percussion. With recorded cat and dog noises as cat and dog balloons fell from the ceiling.