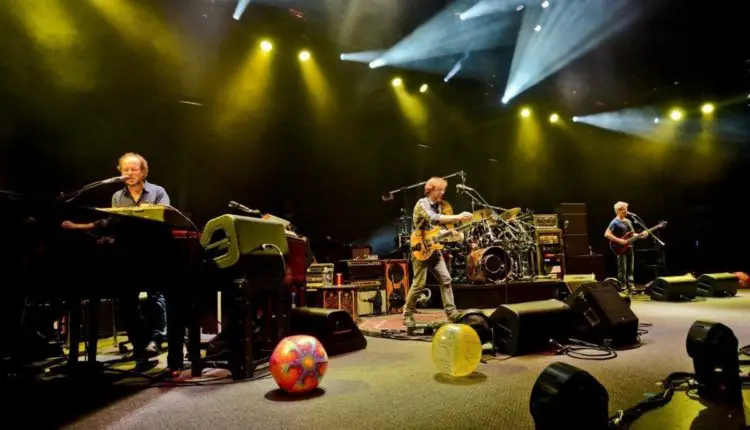 If you are heading to Phish at Saratoga Performing Arts Center during the Fourth of July weekend, here are some veteran tips for making the most out of the three-day run, especially for out-of-town phans.
First things first — follow NYS Music on Twitter and Facebook for helpful hints throughout the weekend. We'll be on location sharing traffic info, park updates and keeping fans aware of anything that they should know. In past years, Saratoga officials have announced a crackdown on alcohol and intoxicated people in the state park known as SPA, which includes SPAC. In the past, there has always been a lot of chatter preceding the summer concert season at SPAC regarding  the increased police presence and no-alcohol policy (with ticket enforcement and arrest potential). The last time Phish visited SPAC in 2014, it wasn't as bad as in recent years, but our advice is not to treat SPAC as a free-for-all — this is a New York State Park and state troopers roam the grounds, not local police.

You'll need this — the map of Saratoga Spa State Park. It is easy to get lost in this expansive park, and you can easily wind up walking around for an hour looking for the lot your car is in, or altogether become disoriented. Download the SPAC Map, just in case.
In the interest of making sure everyone knows what has been the norm in the past, whether you have been here before or not, keep these few things in mind:
State troopers. Keep all alcohol in a cup and don't test the troopers. Phish fans are typically well behaved, but this is a state park, just like Jones Beach, something that shouldn't be ignored while pre-gaming in the lots.
Hotels. Some establishments have been known to call-in suspected drug use. Be smart when pre-gaming at the hotel or getting back, and try to enjoy the post-show scene before getting some needed sleep.
Leaving SPAC. Expect checkpoints for drunk driving and K-9 units for the obvious. Don't leave the park without a sober driver and when you do, drive the speed limit. Whether you're driving down Route 9, Route 50, I-87 or the small towns north and south of Saratoga, take your time.
Post shows. NYS Music is proud to sponsor the stellar lineup of pre and post shows at Nanola in Malta. Where is Malta? Just 10 minutes south of SPAC, off Exit 12 right on Route 9. The menu is fantastic — great Cajun-inspired food and American dishes, as well as one of the best draft and bottle selections in the Capital District.
As you can see from the lineup above, there is an amazing amount of music lined up for each day of the Phish SPAC run. That's the beauty of seeing Phish at a venue like SPAC — the town opens up its doors to Phish with many options for music, art and daytime and nighttime activities. Nanola has six rising artists that are musts to check out, especially if you don't get a chance to see the next wave of bands following in the footsteps of Phish.
Strange Machines, lespecial, Hayley Jane and the Primates, McLovins, Holly Bowling and your host, Mister F , will take the stage throughout the weekend, with collaboration all but assured between the bands. The Sunday brunch with Holly Bowling will be a truly special event, making for an intimate afternoon heading into the third and final night of Phish at SPAC.
You can order tickets for shows individually ($10 each), or get a weekend pass that includes all performances and a shuttle to and from SPAC for only $50. This is a great way to see new music before and after you rock out to Phish and eat some of the best food in the area.
We will see you all at SPAC!