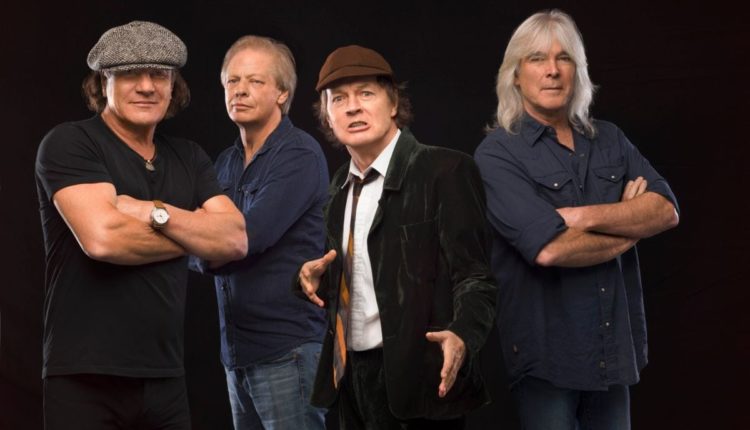 Update 6/5/2016:
AC/DC has announced a slate of rescheduled U.S. shows previously postponed when lead vocalist Brian Johnson left the band in March on the advice of doctors.
Conflicting reports had Johnson unceremoniously removed from the band, while Johnson stated it was merely temporary until he rectified his hearing issues.
Meanwhile, the Aussie band has continued with Axl Rose as vocalist and is currently touring Europe.
Rescheduled New York dates include Buffalo and New York City. Original tickets for the postponed shows will be honored. Refunds are available at point of purchase.
Updated U.S. Tour Dates:
August 27 – Greensboro, NC – Greensboro Coliseum
August 30 – Fort Lauderdale, FL @ BB&T Center
September 1 – Atlanta, GA – Phillips Arena
September 4 – Columbus, OH – Nationwide Arena
September 6 – Cleveland, OH – Quicken Loans Arena
September 9 – Detroit, MI – The Palace
September 11 – Buffalo – First Niagara Center
September 14 – New York  – Madison Square Garden
September 17 – Washington, DC – Verizon Center
September 20 – Philadelphia, PA – Wells Fargo Center
AC/DC has postponed their 10 remaining tour dates, beginning with Tuesday's show in Atlanta, and including their shows in Buffalo on March 29, Philadelphia on April 1 and New York City on April 4.
Vocalist Brian Johnson has been advised by doctors to stop touring immediately due to the risk of total hearing loss. This news comes not long after AC/DC founder Malcolm Young stepped down following a dementia diagnosis.
All postponed dates will be made up later in the year, likely with a guest vocalist. Tickets will be honored for the new dates. Ticketholders who wish to get a refund can do so at the point of purchase.
Original post:
Australian rockers AC/DC announced a second leg of their Rock or Bust tour. The 20-night tour includes two stops in New York – March 29 at the First Niagara Center in Buffalo and April 4 at Madison Square Garden in New York City.
The tour kicks off on Groundhog Day, Feb. 2, in Tacoma, Washington and finishes up on April 4 in New York City. The new dates take them to parts of the country they skipped over on their tour earlier this year.
From a press release from First Niagara Center:
The American Tour date announcement comes after a massive year for the band, with them kicking off the 57th annual Grammy Awards, headlining at Coachella, and completing 17 shows in Europe, 14 shows in North America and 11 shows in Australia/New Zealand.
The first leg of the Rock or Bust tour saw some changes to the AC/DC lineup. Former drummer Chris Slade, who played with them in the '80s and '90s, returned to replace Phil Rudd. Stevie Young filled in for his uncle, Malcolm Young, who is no longer able to tour due to his battle with dementia.
Tickets for the tour go on sale Friday, Dec. 18.
AC/DC U.S. Tour Dates
Feb. 2 – Tacoma Dome, Tacoma, WA
Feb. 5 – MGM Grand Arena, Las Vegas, NV
Feb. 8 – Pepsi Center, Denver, CO
Feb. 11 – Fargo Dome, Fargo, ND
Feb. 14 – Xcel Energy Center, St. Paul, MN
Feb. 17 – United Center, Chicago, IL
Feb. 20 – Scottrade Center, St. Louis, MO
Feb. 23 – American Airlines Center, Dallas, TX
Feb. 26 – Toyota Center, Houston, TX
Feb. 29 – Sprint Center, Kansas City, MO
March 8 – Philips Arena, Atlanta, GA
March 11 – BB&T Center, Ft. Lauderdale, FL
March 14 – Greensboro Coliseum, Greensboro, NC
March 17 – Verizon Center, Washington, DC
March 20 – The Palace, Detroit, MI
March 23 – Nationwide Arena, Columbus, OH
March 26 – Quicken Loans Arena, Cleveland, OH
March 29 – First Niagara Center, Buffalo, NY
April 1 – Wells Fargo Center, Philadelphia, PA
April 4 – Madison Square Garden, New York, NY