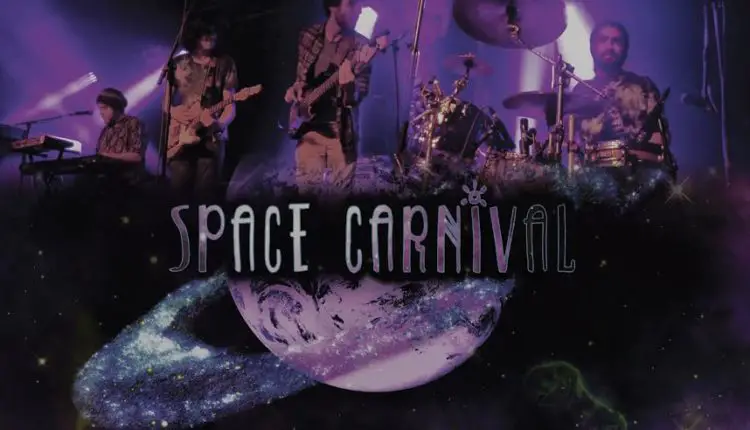 Prophetic? Perhaps. Oneonta-based funk masters Space Carnival announced its "Water on Mars" tour this week, presented by NYSMusic, just as NASA made its historic announcement of water on Mars. Talk about fortuitous timing.
The band is set to kick off its tour in nearby New Berlin as part of the 18th Annual New York Harvest Festival and Freedom Fair on Oct. 10. Tickets for the festival, which runs Oct. 9 – 11, are available in advance here and will cost $100 in advance, $125 at the gate. These tickets will allow you access to the festival for the weekend. Sunday-only tickets are also available for $50.
The New Berlin show will be followed by a performance at the showcase CMJ Music Marathon, celebrating its 35th edition, in Manhattan on Oct. 13. After dipping into North Carolina, West Virginia and Maryland, the band heads back north for a hometown Halloween show at the Oneonta Theatre, opening for Kung Fu and Consider the Source.
The quartet (Jeremy Kraus on guitar, Cameron Fitch on keys and vocals, Chris Meier on bass, and Nick Tassinari on drums) formed in Oneonta in 2013 and celebrated its second anniversary on Sept. 26. Space Carnival's sound is best described as a blend of high-energy disco, funk and progressive rock. You can sample and purchase some of that funk on Bandcamp.
Over the course of two tours, the young band has shared stages with Dopapod, Moon Hooch, Turkuaz, Aqueous, McLovins, Formula 5, Cosmal, Mister F, Squid Parade and Baked Potatoes. This tour has it joining forces with not only Kung Fu and Consider the Source, but Tweed, Space Bacon, Chromatropic, YAMN, Neighborhood Formula and Broccoli Samurai as well.
Get a sip of some of the Mars Water at the dates below.
Space Carnival 2015 Water On Mars Fall Tour dates, presented by NYSMusic:
10.10.15 – New Berlin, NY*
10.13.15 – Manhattan, NY>
10.22.15 – Asheville, NC
10.24.15 – Boone, NC
10.25.15 – Charleston, WV
10.26.15 – Frostburg, MD
10.28.15 – Philadelphia, PA~
10.29.15 – Ithaca, NY
10.29.15 – Binghamton, NY
10.31.15 – Oneonta, NY!
11.03.15 – Putnam, CT
11.04.15 – Providence, RI#
11.05.15 – Bridgeport, CT
11.11.15 – Worcester, MA+
11.12.15 – New Haven, CT**
12.04.15 – Albany, NY%
*NY Harvest Festival  |  >CMJ Music Marathon w/Space Bacon & Chromatropic   |  ~w/Tweed  |  !w/Kung Fu & Consider The Source  |  #w/YAMN
+w/Neighborhood Formula  |  **w/Broccoli Samurai
%w/Lucid
https://youtu.be/cTaRNBmVCCo