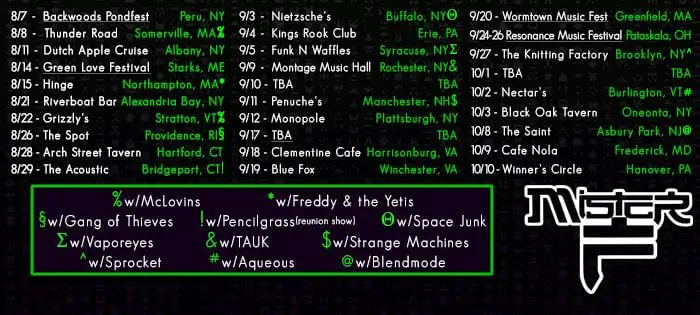 Anyone looking to be transported through an improvisational, psychedelic journey across time and space should make sure to arrive at Funk 'n Waffles downtown tonight to excite their senses with the melodic musings of Vaporeyes and Mister F. Vaporeyes, founded in Syracuse, NY in 2010 boasts a flock of fierce performers including Jonas Reddy-Nicholson playing keys/synths, Shannon Zory slappin' bass guitar, Sean "Chid Law" Cadley on drums, Jamie "Jyms" Tynan on guitar and Stephanie Donato playing saxophone.
Mister F formed in Albany, NY in 2012, prefer to be shrouded in mystery, going by homogenous stage names, featuring Mister B on guitar/bass, Mister A on guitar, Mister M kickin' the drums and Mister S rockin' guitar, bass and keys. Mister F is known for fast-paced dance jams that are sure to heighten heart rates, and are well-matched to open for the instrumentally like-minded creatures of Vaporeyes.
Doors open at 8:00 pm and show starts at 9:00 pm. Get tickets here.