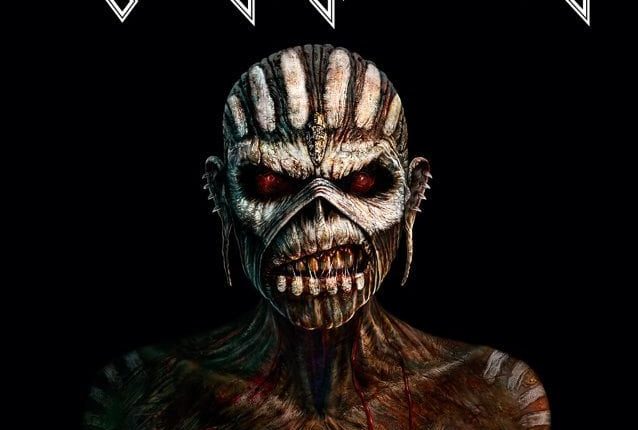 Iron Maiden Releases First Song in Five Years, 'Speed of Light'
You're in luck, Maiden fans: The 16th studio album Bruce Dickinson vowed that Iron Maiden would start working on in 2013 is finally here. The band plans on releasing its forthcoming album, The Book Of Souls, on Sept. 4 through Parlophone Records.
The band released the lead single "Speed of Light," along with a music video for it, off the upcoming album.
Maiden's The Book Of Souls will serve as the band's first ever double studio album, with over 90 minutes of music. The last track on the album, "Empire of the Clouds," is now the longest song in the band's library at 18 minutes in length, beating out "Rime of the Ancient Mariner," which clocked in at 13:45 in length.
The Book Of Souls has been complete since February 2015, but it had to be put on hold while Dickinson recovered from a cancerous tumor found on his tongue. Maiden will not tour the new album until 2016 to allow Dickinson time to recover.
U.K.'s Total Guitar magazine talked with Maiden guitarist Dave Murray and Adrian Smith about the new album:
Murray: "On previous albums we've usually gone into a rehearsal room for maybe a couple of weeks and maybe have four or five songs under our belts. Then we'd go into the studio and start recording, and the rest of the material would be written while we were there. But this time we went in there with a blank page and a bunch of ideas.

"It was a really fun experience because it keeps you on your toes. You have to be really sharp. We're scribbling guitar chords down, melodies and harmonies, changes… Basically, we were flying by the seat of our pants because we never knew what was coming next. But it was wonderful how things kept flowing."

Smith: "[Bruce] was working on ['Empire Of The Clouds'] for about a month on his own. Every single day we'd be in the studio blasting out stuff and he'd be in the soundproof glass booth playing piano. Like Beethoven with his ear to the piano, concocting this masterpiece. I think he wrote every single note in it.

"We interpreted it and we did it in sections. Kevin and Bruce would be in the control room and say, 'That's too bluesy, can you make it a bit more classical sounding?' He recorded all the piano from start to finish and then we played along to that. Then I think they put on all the orchestration afterwards. It's a bit of a story on its own that one."
The Book Of Souls Disc 1:
01. If Eternity Should Fail
02. Speed of Light
03. The Great Unknown
04. The Red and he Black
05. When the River Runs Deep
06. The Book of Souls
The Book Of Souls Disc 2:
01. Death or Glory
02. Shadows of the Valley
03. Tears of a Clown
04. The Man of Sorrows
05. Empire of the Clouds