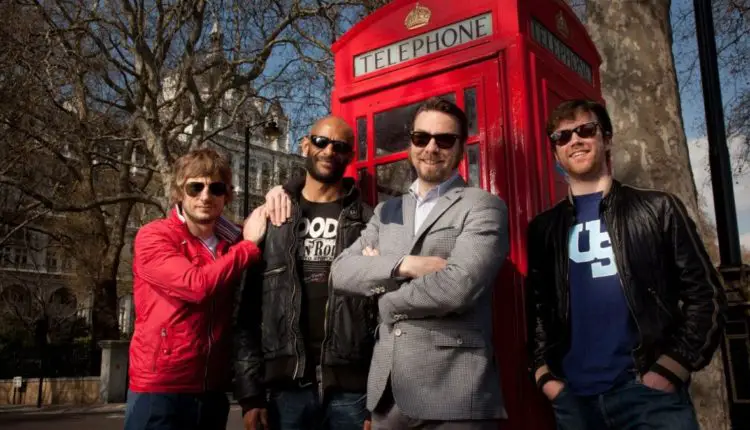 Hailed as one of the preeminent modern soul and funk bands of their time, The New Mastersounds, from Leeds, England, announced the release of their latest album, Made for Pleasure on CD, LP and digital media through Brooklyn-based label Royal Potato Family on Oct. 2.
The band released a single via Soundcloud in advance of the album's release.
The four members of The New Mastersounds, guitarist Eddie Roberts, drummer Simon Allen, bassist Pete Shand and organist Joe Tatton, recorded this session in New Orleans with guest spots from vocalist Charly Lowry, percussionist/vibraphonist Mike Dillon and the West Coast Horns.
Speaking on performing with guests, Allen says, "In the past, the guests on our records haven't really influenced the writing process, but on this record the horns were with us while we were jamming in the studio, so tunes that might not have gone anywhere suddenly came to life because they were coming up with the top-line melodies to make sense of our grooves."
Among the eleven tracks on Made for Pleasure, The New Mastersounds explore New Orleans funk, classic soul, soul jazz and blues, as well as a reinvented version of Iggy Azalea's hit "Fancy."
The band hits the road this fall, beginning in Phoenix, Arizona on September 30. Dates below:

9/30 –
Phoenix, AZ
– Crescent Ballroom
10/1 –
San Diego, CA
– Winstons
10/2 –
Los Angeles, CA
– Teragram Ballroom
10/4 –
Mill Valley, CA
– Sweetwater Music Hall
10/6 –
Chico, CA
– Lost On Main
10/7 –
Eugene, OR
– HiFi Music Hall
10/8 –
Portland, OR
– Wonder Ballroom
10/9-10 –
Seattle, WA
– Nectar Lounge
10/11 –
Missoula, MT
– Top Hat Lounge
10/13 –
Salt Lake City, UT
–
The
State Room
10/14 –
Boulder, CO
– Fox Theatre
10/15 –
Steamboat Springs, CO
– Old Town Pub
10/16 –
Albuquerque, NM
– El Rey Theater
10/17 –
Chicago, IL
– Concord Music Hall
10/16-18 –
Ozark, AR
– Phases of
the
Moon Music + Art Festival
10/20 –
St. Louis, MO
– Old Rock House
10/21 –
Memphis, TN
– 1884 Lounge
10/22-25 –
Rockdale, TX
– Art Outside
10/23 –
Dallas, TX
–
The
Loft at Gilley's
10/24 –
Houston, TX
– Warehouse Live Studio
10/27 –
Birmingham, AL
– Workplay
10/28 –
Baton Rouge, LA
– Varsity Theatre
10/29 –
Jackson, MS
– Duling Hall
10/30-11/1 –
Hattiesburg, MS
– Dollar Box Showroom
10/31 –
Live Oak, FL
– Hulaween
11/1 –
Charleston, SC
– Charleston Pour House
11/3 –
Wilmington, NC
– Ziggy's
11/4 –
Charlotte, NC
– Neighborhood Theatre
11/5 –
Raleigh, NC
– Southland Ballroom
11/6 –
Asheville, NC
– Isis
11/7 –
Nashville, TN
– War Memorial Auditorium** w/ Lettuce